Bid to poison Aligarh madrasa students foiled, FIR registered
Sep 17, 2017 11:30 PM IST
An attempt was allegedly made to poison students of a madrasa in Aligarh but an alert student sounded alarm and averted a possible tragedy.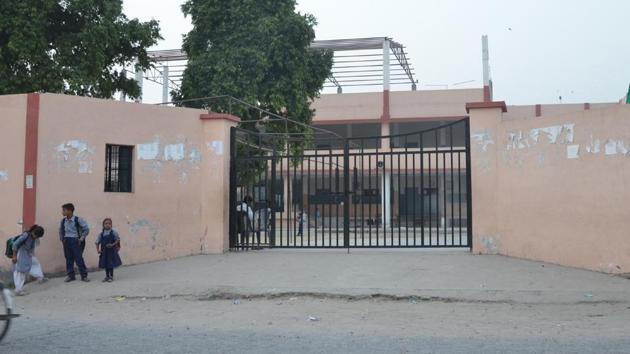 Security around the madrasa in Civil Lines has been increased and an FIR has been registered against two unidentified men.
Madarsa Chacha Nehru, run by Salma Ansari, wife of former Vice President Hamid Ansari, houses some 3,600 students.
On Sunday evening, a student named Afzal saw two unidentified men pouring some substance into the water cooler kept near the gate of the school. He said as soon as they saw him, one of them took out a pistol and threatened him before making a successful run to escape.
Afzal informed his teachers. Later, an inspection of the substance revealed it to be rat poison, officers who responded to the teachers' call told HT.
Javed Khan, inspector, Civil Lines police station, said traces of 'Mortein rat kill' were found inside the water tank while its wrapper was also recovered.
Madarsa officials filed a complaint and an FIR was registered against two unidentified people. The water cooler was later emptied and security around the campus was increased.
Madarsa's warden Junaid Siddiqui said, "It was around 10pm and I was teaching some boarders on the upper floor of the madarsa when Afzal, a student of Class 7, came and narrated sighting the two men pouring something inside the water cooler. He was carrying a wrapper of Mortein rat kill whose contents were later found inside the tank."
"He said one of them had aimed a pistol at him before both jumped over the madarsa wall to escape," Siddiqui added.
Madarsa principal Aqil-ur-Rahman said: "Had the accused succeeded in their attempt, many madarsa students could have died. A thorough investigation is needed."
Salma Ansari, chairperson of Al Noor Charitable Society, which runs the madarsa, condemned the act. "Who can have enmity with children? I am unable to understand. Investigation is a must to expose the conspiracy behind it," she said.