15 kanals retrieved from illegal possession of former J&K finance minister: Admn
Jan 29, 2023 01:50 AM IST
Jammu and Kashmir government on Saturday said 15 kanals of orchard land was retrieved from the 'illegal possession' of former J&K finance minister Haseeb Drabu in Shopian district during an anti-encroachment drive launched against 'land grabbers'
Jammu and Kashmir government on Saturday said 15 kanals of orchard land was retrieved from the 'illegal possession' of former J&K finance minister Haseeb Drabu in Shopian district during an anti-encroachment drive launched against 'land grabbers'.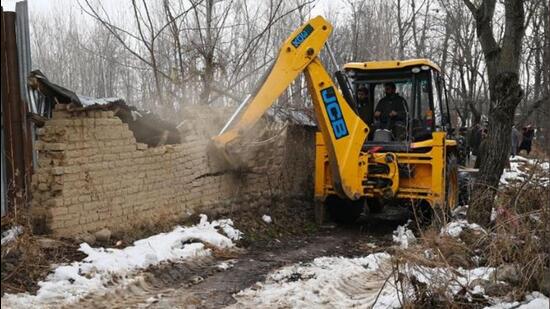 Drabu is the third former minister who has been blamed by the government for the state land encroachment.
Earlier, the authorities had demolished a shopping complex belonging to former minister Ghulam Hasan Khan and on Wednesday, boundary wall and guard house of a property belonging to the wife of NC general secretary and former minister Ali Mohammad Sagar was razed.
"Among the 100s of kanals of illegally occupied land freed today, Shopian administration retrieved 15 Kanals of illegally occupied high value orchard land from former Finance Minister Haseeb Drabu (15 Kanals). Govt's zero-tolerance policy ensures land is used for public benefit (sic)," the official Twitter handle of Shopian district posted.
However, Drabu said he doesn't own any property in Shopian.
"I am not aware of the land which the government is talking about," he said.
Drabu was the finance minister when the PDP and the BJP were running a coalition government in J&K. He, however, quit the PDP after the BJP withdrew support in 2018.
J&K government has launched a major eviction drive to clear state land of encroachments.
The drive has caused major resentment among common people and politicians who claim that it will affect poor people possessing small landholdings for decades.
J&K lieutenant governor Manoj Sinha had assured that no poor people will be targeted, but only those "influential people who used their approach to encroach state land".
"Legal action is being taken against influential people who had illegally encroached upon the government…People are at the centre of governance. We have ensured that the interests of common citizens are protected and that they are not impacted by the campaign to remove illegal encroachments," Sinha had reiterated on the Republic Day.