Chandigarh police holds kabaddi tournament to mark International Day Against Drugs
Published on Jun 27, 2022 02:29 AM IST
The kabaddi tournament was organised in the North East Division by the Chandigarh police; a total of 15 teams from the city participated in the event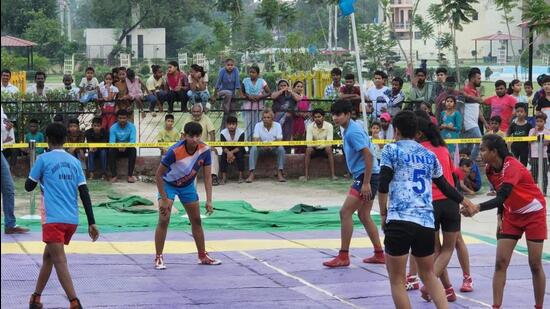 On the occasion of International Day Against Drugs, a kabaddi tournament was organised in the North East Division by the police on Sunday. A total of 15 teams from the city participated in the event, which saw around 5,000 people of the area in the attendance.
Union ban on plastic kicks in on July 1
Chandigarh With the Union government's ban on single-use plastic kicking in from July 1, a special task force has been set up to enforce its effective implementation. The municipal corporation and the Chandigarh Pollution Control Committee have joined hands to check on violations and a special task force will conduct surveys and issue challans to violators.
Seminar on family relationship held
Chandigarh INSPIRE organised a seminar for its members on Sunday in the auditorium of the Panjab University (PU) on "family relationship" by CA SP Babuta. The guest Speaker spork about "Balance in speed of life", "What is the cost of achievement of Life", "What is basic fabric of the family", among others. JN Bakshi, INSPIRE advisor and secretary general, also said it was the constant endeavour to keep INSPIRE members abreast with latest development in and around the world.
NADA India urges govt to make cigarettes, bidis more expensive
Chandigarh NADA Young India Network has urged the government for an increase in the compensation cess on tobacco and tobacco related products ahead of the GST Council meeting to be held in Chandigarh on June 28 and 29. NADA chairperson to Sunil Vatsyan said recent research on 'trends in affordability of tobacco products before and after the transition to GST in India' has revealed that cigarettes, bidis and smokeless tobacco have become 'in reach' for the people in the last five years.
PU to host photo exhibition
Chandigarh Panjab University's department of public relations in collaboration with varsity's Centre for Social Work and Chandigarh Press Club will organise a photo exhibition showcasing the works of 51 photojournalists. The exhibition, entitled Canvas of Life: A Media Kaleidoscope will be on display from June 28 to 30.
Close Story
Personalise your news feed. Follow trending topics