Chandigarh: Protest of aided colleges' staffers enters Day 2
Feb 03, 2023 12:28 AM IST
Hundreds of protesters sat on their indefinite strike at MCM DAV College in Sector 36 over delay in implementation of central service rules for teachers and non-implementation of the Sixth Pay Commission for non-teaching staff working in aided colleges
The protest of teaching and non-teaching staffers of Chandigarh's privately managed government-aided colleges entered its second day on Thursday.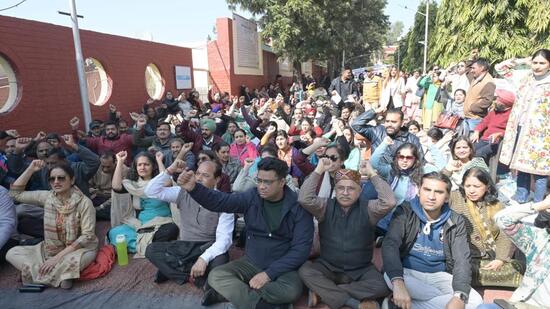 Hundreds of protesters sat on their indefinite strike at MCM DAV College in Sector 36 over delay in implementation of central service rules for teachers and non-implementation of the Sixth Pay Commission for non-teaching staff working in aided colleges.
The joint action committee of the teaching and non-teaching unions of the aided colleges have already declared the protest schedule till February 8.
The action committee in a statement said more than 500 teachers and non-teaching staffers, along with 200 students from Chandigarh colleges, participated on the second day of the protest.
Sumit Goklaney, representative of the joint action committee, also appealed to all senators from Panjab University to join and support their demands on the third day of protest at SGGS College on Friday.