Ludhiana's GADVASU researchers shines in national conference
Published on Jan 25, 2023 11:43 PM IST
Vice chancellor Inderjeet Singh, congratulated all the researchers and recipients for bagging awards in the national conference, and said GADVASU is receiving attention in both national and international arenas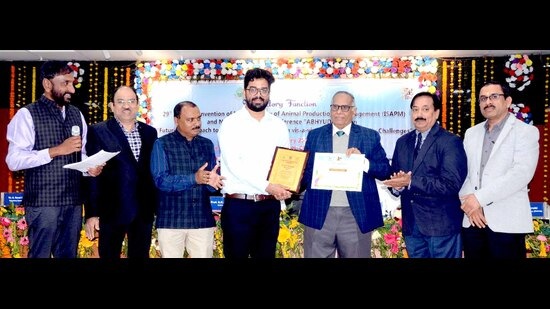 The faculty and postgraduate students of the department of livestock production management (LPM), Guru Angad Dev Veterinary and Animal Sciences University (GADVASU) were bestowed with felicitation awards in the 29th Annual Convention of Indian Society of Animal Production and Management (ISAPM)-2023.
The conference was held at Odisha University of Agriculture and Technology, Bhubaneswar, and its theme was "ABHIYUDAYA: Futuristic approach to viable animal production vis-à-vis climate and calamity challenges".
The scientists Daljeet Kaur, Mandeep Singla, and RaviKant Gupta were honoured for their contribution and active participation. LPM MVSc student Rudra Narayan Babu was felicitated with 'Dr NSR Sastry Young Scientist Award' and PhD scholar Vanlalmangaihsanga received 'Dr NSR Sastry Eight Sisters Award'. Sarishti Katwal and Gurpreet Kaur, received prizes for their oral presentations.
LPM head of department Yashpal Singh, praised the staff and students for their dedication in the field of livestock production management research.
College of Veterinary Science dean S P S Ghuman, complimenting the department head, staff members, and students, urged them to take part in similar conventions with all of their enthusiasm.
Vice chancellor Inderjeet Singh, congratulated all the participants and recipients and said GADVASU is receiving attention in both national and international arenas, adding that this recognition is a result of the diligent work put in by teachers and students of the varsity.