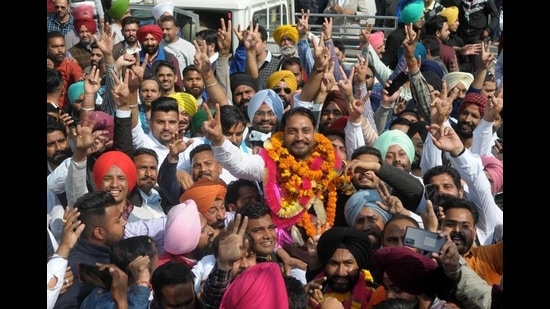 Municipal corporation elections: Mohali gives Congress a thumping victory
Ruling party wins 37 of the 50 seats, while 10 seats go to Azad group-AAP alliance; independents bag three seats; former mayor Kulwant Singh loses
UPDATED ON FEB 19, 2021 01:52 AM IST
The Congress registered a landslide victory in the Mohali municipal corporation elections by winning 37 of the 50 seats.
The Azad group-Aam Aadmi Party combine clinched 10 seats, while the remaining three were bagged by independents. The Shiromani Akali Dal (SAD) and Bharatiya Janata Party (BJP) drew a complete blank.
In a major setback, former mayor and head of Azad group, Kulwant Singh, lost the elections to Congress candidate Amrik Singh Somal in ward number 42 by 267 votes.
Congress' mayoral candidate Amarjeet Singh Sidhu, the brother of Punjab cabinet minister Balbir Singh Sidhu, won the elections from ward number 10 by defeating Azad group candidate Paramjeet Singh Kahlon by 925 votes.
Among other major losers in the elections were Youth Akali Dal (YAD) president Ramandeep Singh Bawa, YAD Mohali president Harmanpreet Singh Prince, his wife, Inderpreet Kaur, SAD Mohali urban president Kanwaljit Singh Ruby, SAD Mohali women wing president Kuldeep Kaur Kang and Bharatiya Janata Yuva Morcha executive member Sahibee Anand.
As many as 260 candidates, including 110 women, contested the elections. With 50% seats reserved for them, at least 25 councillors in the 50-member House are women.
The Congress contested the elections from all 50 wards, so did the Azad group in alliance with the AAP. The BJP fought for 46 seats, the SAD for 43 and the BSP for four seats. Besides, 67 independents were also in fray.
The first elections of Mohali MC were held in 2015. The House was elected for five years and the term of the previous one ended on April 26 last year.
In the 2015 elections, the SAD-BJP combine had won 23 seats, the Congress got 14, the Azad group led by Kulwant Singh had grabbed 10 seats and three were won by independent candidates.
Close