Joshimath: Govt approves Pipalkoti site for first phase of rehabilitation
Jan 18, 2023 07:05 PM IST
The government said around 120 to 125 families can be accommodated at the Pipalkoti site and the process of identifying other sites is in progress
The Uttarakhand government has given its green signal to shift over 120 families affected by the Joshimath land subsidence to Pipalkoti, 36 km from the crisis-hit city, in the first phase of the rehabilitation of victims, and the process of identifying other sites is in progress, a senior official said on Wednesday.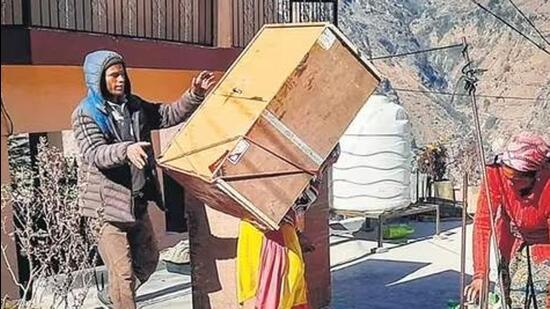 "We have identified four sites for rehabilitation. In the first phase, Pipalkoti, located at an altitude of 1,260 metres above sea level, has been found appropriate for rehabilitation in about two hectares of land there," said Ranjit Sinha, secretary disaster management.
Pipalkoti is among the four sites identified by the Chamoli district administration following a land survey. The Central Building Research Institute (CBRI) Roorkee will developing the land and design the layout of buildings here.
"We will not be able to settle all the families but around 120 to 125 families can be accommodated at the Pipalkoti site and the process of identifying other sites is also going on as we would require rehabilitating other affected people also," he said.
"The process to identify more land for permanent settlement is on and the decision will be taken after the submission of the report by the Geological Survey of India," said Sinha, adding that a time frame has been fixed for the Centre's various technical institutions for completing their studies on various aspects of land subsidence in Joshimath.
Sinha said currently affected people are staying in hotels and homestays, but the government is planning to set up transitional settlements by constructing prefabricated houses at the horticulture land near TCP Tiraha in Joshimath, which has been found to be appropriate.
"It has also been decided that three models of prefabricated structures will be constructed initially and later more such structures will be constructed for the affected people. The agency assigned to make prefabricated structures has reached Joshimath and has begun the work,", he added.
On the other hand, members of the Joshimath Bachao Sangarsh Samiti have opposed any permanent settlement outside Joshimath.
"More than 90 per cent of residents are not in favour of settling in Pipalkoti as we all have lived all our lives in cool climes of Joshimath and we have suggested land near Auli and Koti Farm which is appropriate for permanent settlement," said Atul Sati, convener of the Joshimath Bachao Sangarsh Samiti.
Sunita Devi, a resident of Joshimath whose house has developed cracks due to land subsidence said, "We are used to the climate of Joshimath and for us to settle in warmer areas will be difficult, hence the government should give land near Joshimath or else we will not go anywhere ."
According to a report by news agency PTI, the number of buildings that have developed cracks in Joshimath has risen to 849 and 250 families have so far been evacuated to safety. There are a total 615 rooms in the temporary relief camps in Joshimath with a capacity of 2,190 people and 491 rooms in Pipalkoti with a capacity of 2,205.