17-year-old stabbed while protecting teacher in Delhi
Updated on Jan 25, 2023 08:05 AM IST
The victim, identified by police as Abhishek (single name), a student of class 12 at a government school, is currently recuperating in hospital.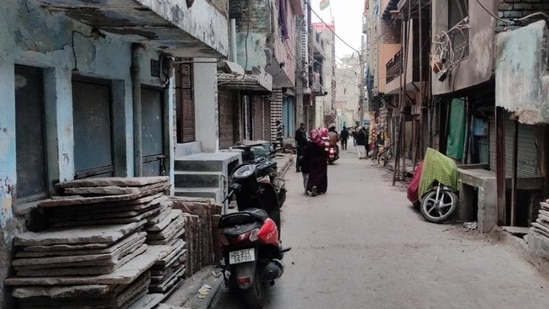 A 17-year-old boy was stabbed at least four times with a knife while attempting to defend his tuition teacher from an assailant in south Delhi's Sangam Vihar, police officers aware of the matter said on Tuesday, adding that two brothers, including a minor, have been apprehended in connection with the incident.
The victim, identified by police as Abhishek (single name), a student of class 12 at a government school, is currently recuperating in hospital.
Deputy commissioner of police (south) Chandan Chowdhary said the incident occurred on Monday night outside a tuition centre run by AD Mahesh. At around 8.30pm, a man identified as Shishpal (25), who lived right opposite the tuition centre, came to the lane and started shouting and abusing passersby.
Also read: Delhi mayoral polls delayed again after ruckus in the House
Police said at this point, Mahesh, who was having dinner, came out to try and pacify him. Hearing the commotion, officers said, the students at the centre also came out and were present when Shishpal suddenly attacked Mahesh and started a scuffle. A senior officer investigating the case said Abhishek went to his teacher's aid, and which point, Shishpal started scuffling with him.
"During the scuffle, Shishpal's younger brother rushed out from their house and handed over a knife to him. Shishpal attacked the student's head and face repeatedly. Apart from the stab wounds in the head, the upper lip of the student was also badly cut. The student collapsed in the lane and fell unconscious, after which Shishpal and his brother went inside their house," the senior officer said.
DCP Chowdhary said police got to know the incident at 8.43pm, following which a team reached the spot. Abhishek was rushed to the AIIMS Trauma Centre, while police tried to nab the attackers. Shishpal and his brother climbed to the roof of their building and started pelting onlookers with bricks. However, no one was hurt, and the police managed to apprehend the two.
Though the Delhi Police have not officially shared data on the number of murder, attempt to murder or robbery cases where the assailant used knives, Monday's episode was the latest in a spree of stabbing incidents plaguing the national capital.
Also read: Delhi logs warmest January day in 4 years
On January 22, head constable Rinku Kumar was stabbed twice in southwest Delhi's Qutub Vihar while apprehending an alleged criminal who was fleeing. Before that, on January 4, assistant sub-inspector Shambu Dayal was stabbed more than 10 times in broad daylight while he was escorting an alleged mobile snatcher to the Mayapuri police station in west Delhi. Dayal succumbed to his injuries four days later.
In Monday's incident, the officer quoted above said Shishpal and his minor brother have been booked under various Indian Penal Code sections at the Sangam Vihar police station.
HT visited the incident spot on Tuesday and tried to speak to Mahesh and other students at the tuition centre. The teacher, however, refused to speak, saying he did not want to involve his students in the matter as it would divert his focus from their studies and preparation for their class 12 exams.