Amid furore, Congress screens BBC documentary on PM Modi in Kerala
Jan 27, 2023 05:21 AM IST
The documentary on the 2002 Gujarat riots, when Prime Minister Narendra Modi was the chief minister of the state, has created a controversy with the central government rejecting it as "propaganda" and a reflection of a "colonial mindset."
The Congress on Thursday organised a public screening of the BBC documentary India: The Modi Question at a beach in Thiruvananthapuram amid heavy police deployment.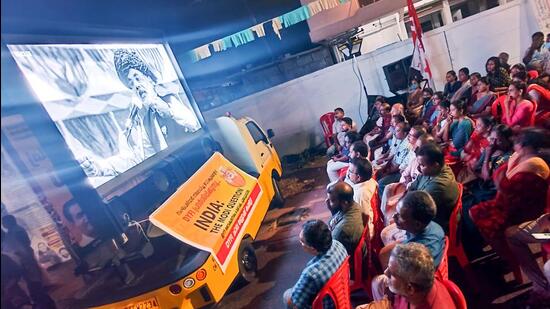 The documentary on the 2002 Gujarat riots, when Prime Minister Narendra Modi was the chief minister of the state, has created a controversy with the central government rejecting it as "propaganda" and a reflection of a "colonial mindset."
Speaking on the condition of anonymity, officials last week said that the Centre has ordered YouTube to take down copies of the documentary and asked Twitter to remove posts connected to it as the administration believes that the series poses a threat to the country's sovereignty and public order. The Opposition criticised the move, accusing the government of promoting censorship and subverting dissent.
Also Read | Detained over BBC film, Jamia students freed
"We received a positive response to the screening from the general public. Lots of people turned up to see it. In view of the positive response, we will show it across the state at various places in the coming days," Kerala Pradesh Congress Committee (KPCC) general secretary GS Babu said, adding that they first held a screening at the party's state headquarters for their workers.
The party also screened the documentary in Kozhikode (north Kerala) on Wednesday. And the youth wing of the state's ruling Communist Party of India (Marxist ), the Democratic Youth Federation of India, screened the documentary in the state capital on Tuesday amid protests by the Bharatiya Janata Party (BJP).
The police resorted to water canons to disburse the protesters who were trying to disrupt the screening.
The BJP criticised Thursday's screening, stating that both the CPI(M) and the Congress wanted to "discredit the county and the Prime Minister".
"Both the parties have a single-point agenda, discredit the country and its Prime Minister. It is nothing but politics of appeasement," BJP leader S Suresh.
Congress screened the documentary a day after party leader and former defence minister AK Antony's son, Anil Antony, quit party posts over "intolerant calls" following his criticism of the documentary.