Boy snatches money garland off groom's neck, makes off with 329
₹

500 notes

Jan 28, 2023 12:39 AM IST
Police said the boy made off with 329 ₹500 notes. Only 71 banknotes -- some with the groom, some littered on the street -- were left behind
On his wedding day, just as 27-year-old Rizwan Khan was about to get on to a mare for his wedding procession, an unidentified boy lurking nearby snatched at his garland of money -- it had 400 ₹500 notes, amounting to ₹2 lakh -- outside a banquet hall in Mayapuri in west Delhi on Thursday night and fled with a major portion of it.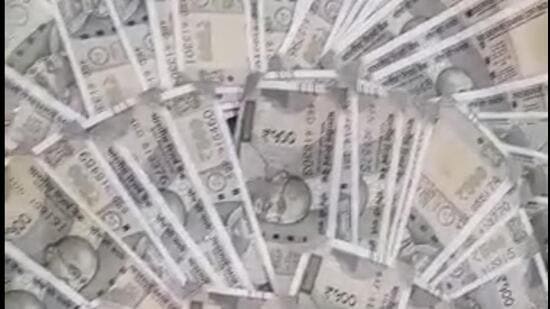 Police said the boy made off with 329 ₹500 notes. Only 71 banknotes -- some with the groom, some littered on the street -- were left behind.
Khan's brother-in-law, Sarfaraz Khan, who had gifted the garland, chased the teenager to the nearby forested area, but had to return empty handed as the suspect disappeared into the woods.
Groom's brother Imran Khan said the wedding was fixed two and half years ago but it got delayed because of the Covid-19 pandemic. Imran said his brother-in-law (Sarfaraz) had been saving up to purchase a big garland of notes for Khan.
Around 9.30 pm, Imran said Khan was about to get on the mare for the procession when a transgender person created a nuisance. While the 50 plus guests got busy trying to resolve the issue, one of four boys, who were present there without invitation, snatched the garland from Khan's neck and fled.
"My brother raised the alarm and held on to the garland as best he could. He suffered minor injury in his hand in the process. We tried to give chase but gave up after locals told us that the snatchers may attack us and the area was not safe. The wedding concluded and I later filed a police complaint," said Imran
On Friday, the west district police apprehended the culprit, a 14-year-old boy, and claimed to have recovered 79 of the 329 stolen notes.
Police are now trying to recover the remaining stolen notes by catching his accomplices, said deputy commissioner of police (west) Ghanshyam Bansal.
"The snatching case was registered at the Mayapuri police station on the complaint of the brother of the groom. The suspect was identified with the help of CCTV cameras. He was apprehended from Hari Nagar area, nearly five kilometres from the banquet hall where the snatching took place. About 79 notes were recovered from his house," said DCP Bansal.