Delhi moves to regulate casual e-waste handling
Mar 12, 2022 12:19 AM IST
According to a Toxics Link study on the thriving informal e-waste sector in Delhi NCR in 2018, nearly 5,000 e-waste processing units, mostly in east Delhi, were functioning without proper guidelines, precautions or norms
In the absence of an organised system to deal with electronic waste, around 90-95% of the Capital's 200 million kilos of such waste generated annually reaches landfills or informal recyclers who break them in the open -- both a serious environmental risk, a study conducted in 2018 has found.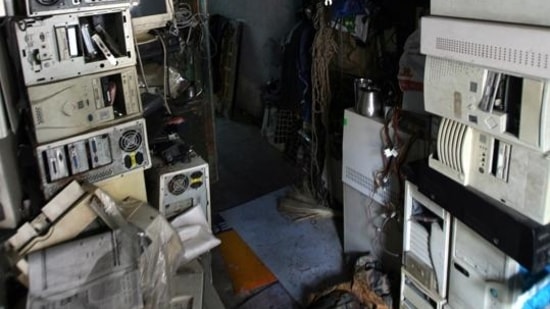 According to a Toxics Link study on the thriving informal e-waste sector in Delhi NCR in 2018, nearly 5,000 e-waste processing units, mostly in east Delhi, were functioning without proper guidelines, precautions or norms.
Stay tuned with breaking news on HT Channel on Facebook.
Join Now
"...(Of the 15 areas across Delhi NCR) Seelampur in Shahdara, Mustafabad in north-east Delhi along with Behta Hazipur and Loni in Ghaziabad came across as the biggest hot spots, accounting for about 57%, 15%, 9% and 10% of all the e-waste informal processing and handling units in Delhi-NCR respectively," the study said.
The other areas analysed included Mandoli, Mayapuri junk market, Jafrabad, Turkman Gate, Seemapuri and Shastri Park among others.
To be sure, the Delhi government has already finalised a 20-acre plot in Narela as the Capital's first e-waste park where waste generators and certified recyclers can operate under one roof. However, it may still take over a year for the sites to become operational. The government is also planning two more such e-waste parks in south and east Delhi.
A senior Delhi Pollution Control Committee (DPCC) official, working on the e-waste park project, said a detailed project report (DPR) will now be prepared after the finalisation of the site. "Only then can we give a timeline for opening the park," the official said.
He further said that while action was being taken periodically against informal e-waste recycling units in coordination with the Delhi Police, revenue department and corporations, there are still thousands still functioning. "Even at Nehru Place, rules are being flouted and that is still a known market. We are trying to enforce the e-waste rules more strictly, but even now, 90% of the e-waste in Delhi is not being recycled," the official added.
Informal dismantling is also known to release high amounts of heavy metals into the air and soil. In a study conducted by Greenpeace in 2005, high concentration of lead, cadmium and mercury were detected in street dust samples collected from informal e-waste recycling units in different parts of Delhi, as compared to samples collected from residential or commercial areas.
The environmental damage from electronic waste can generally come from the hazardous elements contained in the electronic products, the auxiliary substances used in the recycling process, or as byproducts generated during the transformation of primary constituents.
"Open and manual dismantling, shredding, burning, leaching and uncontrolled dumping of electronic waste not only directly harms the exposed workers but also reached the environment through contaminating soil, ground water, surface water and polluting air," said the 2018 Toxics Link report, noting that printed circuit boards were high in lead; open crushing and burning of Cathode Ray Tube (CRT) often generates toxic fumes; mercury is released through switches, old computers and flat screens during the dismantling or incineration process; and cadmium content from mobile phones has often reached landfill sites, contaminating the soil and groundwater there.
To tackle the problem, the government introduced the E-waste Management Rules in 2016, but six years on, it has had limited effect on the ground.
Under the "Extended Producer Responsibility" (EPR) mandated by the rules, companies manufacturing electronic items are also responsible for safely recycling and disposing them off. However, this too has largely failed to take off, mainly due to a lack of awareness.
According to the latest State of India's Environment Report 2022, an analysis by the Centre for Science of India last year found most state pollution control boards lacked information and transparency around e-waste.
The analysis noted that only Madhya Pradesh, Maharashtra and Telangana have shared information on the quantity of e-waste generated and recycled, along with lists of authorised e-waste recyclers on their websites. Delhi, along with Andaman and Nicobar, Arunachal Pradesh, Chandigarh, Daman and Diu, Manipur, Meghalaya, Nagaland and Rajasthan are among states that have provided no information with regard to e-waste.
In a review meeting held by the Lt Governor in September 2021 regarding Delhi's e-waste parks, officials said Delhi was currently generating over 200 million kilos of e-waste each year, with 95% not being recycled.
Siddharth Ghanshyam Singh, deputy programme manager, solid waste management unit at CSE, also attributed such high figures down to "planned obsolence", stating that products such as mobile phones were simply not lasting long enough and had to be discarded after two to three years. "Companies are now adopting a combination of hardware and software strategy to make the product only last a couple of years. Some products are inherently designed to make repair difficult or even impossible. For instance, the use of glues that make opening up the case non-viable or use of special screws that cannot be opened with the help of a universal screw driver. In terms of software, products are designed to lose functionality by excluding them from the software or operating system upgrades," he said.
Ashish Jain, Director at the NGO Indian Pollution Control Association (IPCA), however feels despite the e-waste rules in place, EPR is still a relatively new concept and will take time to percolate down to the consumer level.
"One cannot say EPR as a mechanism has failed at this point, but its implementation and management of e-waste is still not a priority of many consumers, manufacturers and government bodies. There are also a lot of stakeholders involved and therefore, recycling waste through producers is still likely to take time. Consumers are learning more and becoming more aware with each passing day," he said.