East MCD move to give financial assistance for composting, waste processing units
EDMC commissioner Vikas Anand said the civic body will either provide
₹
25,000 to bulk waste generators in the residential category or 25% of the cost of the machine used for waste processing as a subsidy, whichever is lower.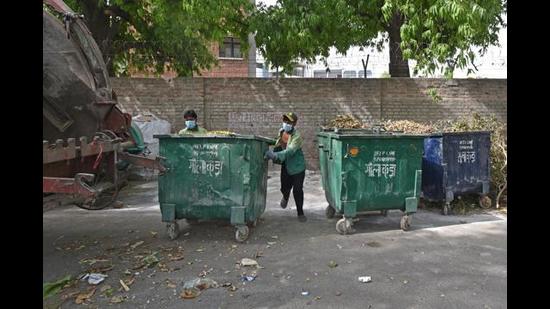 Updated on Dec 02, 2021 12:05 AM IST
In a bid to encourage municipal waste segregation in colonies and societies, the East Delhi Municipal Corporation (EDMC) has decided to provide financial assistance to subsidise the setting up of composting stations or waste processing units. EDMC commissioner Vikas Anand said that the civic body has taken the initiative to ensure segregation of waste at source, for which the corporation will either provide ₹25,000 to bulk waste generators in the residential category or 25% of the cost of the machine used for waste processing as a subsidy.
"This will encourage bulk waste generators to adopt segregation of waste at the producer-level," he added.
According to the notice issued by the east corporation on Wednesday, bulk waste generators will have to undertake waste processing on their premises. "EDMC is offering 25% of project cost or ₹25,000, whichever is less. Interested residents can apply to avail the subsidy at the respective zonal office of the deputy commissioner in Shahadra South and Shahadra North," the notice stated.
A senior municipal official from the department of environment management services stated that municipal waste producers that generate over 100 kilograms of waste everyday are considered bulk waste producers.
"Establishments such as hotels, eateries, restaurants, and farmhouses are part of the commercial bulk producer category, while co-operative groups housing societies, colonies, etc. are part of the residential bulk producer category. According to the Municipal Solid Waste Management Rules 2016, it is mandatory for bulk producers to segregate and process their waste," the official said.
Despite being mandatory, waste segregation rules have been very feebly enforced in Delhi, and ensuring waste segregation at the source remains an uphill task in Delhi.
Another sanitation department official said that there are various waste processing and composting units available in the market that cost ₹50,000- ₹40 lakh. "At the society or residential colony level, a cheaper non-mechanical composting unit can be sufficient. Drum composter units cost ₹40,000- ₹50,000, and two drum composters can be sufficient for a small area. In many societies, such as Navjeevan Vihar and Defence Colony, residents have also made composting pits to treat wet waste," the official said.
BS Vohra, who heads the East Delhi RWA joint front, said that there is a large number of plotted colonies and RWAs in the trans-Yamuna area, but they have no common space where composting can be carried out. "While co-operative group housing societies have space for such units, open colonies have no such provision, and EDMC should consider providing corner spaces in parks or open areas for composting units to such interested RWAs," he stated.
Vohra said that RWAs don't have any financial revenue source and a mechanism should be developed to procure good quality compost by government departments or horticulture departments to incentivise the process.
Under Solid Waste Management Rules, households are to be fined ₹200 daily, bulk producers like marriage/party halls ₹10,000, and establishments like clubs, pubs, and cinema halls ₹5,000 if they do not hand over segregated waste. But fines are rarely imposed.
In 2018, the north corporation had issued show-cause notices to several hundred bulk producers with a warning to impose hefty fines, but the process did not move forward.
Topics
Close Story