Kerala team on trail of rogue elephant
Jan 06, 2023 11:42 AM IST
The rapid response team of Palakkad forest division that tracked the elephant since March 2021 and submitted an internal report to the chief wildlife warden in March 2022 had stated that "PT-7 is a tusker to watch out in future due to its aggressive behaviour"
Around 70 forest officials, a team of veterinary doctors and two kumki (trained jumbos) elephants are on trail of a rogue tusker in Dhoni area of Kerala's Palakkad that killed one person in last July, that destroyed agriculture farms and terrorised local people for more than a year, forest officials in the know of the matter said.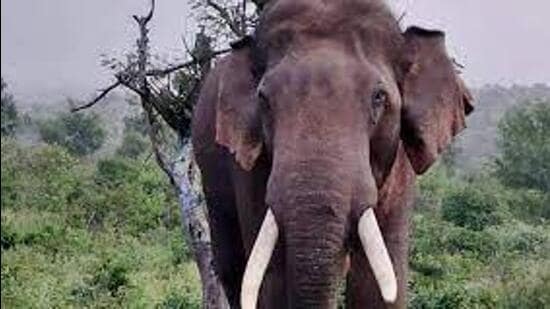 Nicknamed PT-7 (Palakkad tusker 7), the animal has been giving sleepless nights to many forest personnel and all the efforts to send it back to forests have failed repeatedly, a forest official said on the condition of anonymity. The initial plan was to tranquillise the animal and take it to elephant training centre in Muthanga in Wayanad district, said the official. But the plan was shelved due to technical and ground-handling difficulties. And now a separate kraal (elephant training cottage) is being built at Dhoni to tame and train the jumbo, the official said.
"It is a 20-year-old elephant. We have tried our best to send it back to forests but it returns to human settlement after some time. The chief wildlife warden has given us permission to tranquillise and capture the animal. Our kraal is getting ready in Dhoni," said Palakad divisional forest officer Kurra Sreenivas.
He said initial plan to take it to Wayanad was shelved keeping the safety of animal and distance in mind. (Palakkad to Wayanad distance is 160 km).
The rapid response team of Palakkad forest division that tracked the elephant since March 2021 and submitted an internal report to the chief wildlife warden in March 2022 had stated that "PT-7 is a tusker to watch out in future due to its aggressive behaviour."
Out of the 360 days it was tracked, it was spotted 188 days in human habitats. It was also involved in 180 incidents of crop damage, 13 incidents of house destruction and one incident of hurting a person, the report had stated. While forest officials vouch that there was no direct evidence to prove that Sivraraman, who was going for a morning walk, was trampled to death by PT-7 in last July, locals, however, swear the elephant was behind the attack. According to the local residents, the animal is also responsible for two more deaths and at least a dozen cases of wild chasing and attacks on motor vehicles. But forest officials said "though PT-7 is an eternal trouble-maker it was difficult to say the animal was behind these deaths."
"We will block the tusker using kumki elephants, Vikram and Bharat, and dart it once we get the animal to an ideal spot. It is a cumbersome process and takes days together. We are presently driving out the tusker from human habitat," said chief veterinary surgeon and darting expert of the forest department, Dr Arun Sacaria.
Besides Dhoni many villages like Mundur, Akathethara and Odavanakadu in the district are up in arms against delay in capturing the wild tusker. "Our life was crippled for more than year due to the tusker. There were many near misses.The elephant gets aggressive and is unpredictable," said Rajasekharan, a farmer in Dhoni adding, the animal destroyed the crops worth several lakhs.
According to the forest department statistics, there has been an increase in elephant attacks in the state. Last year Union minister for environment, forest and climate change Bhupendar Yadav told the Parliament that 57 people were killed in last three years in elephant attacks in the state. During the corresponding period, the toll from three years ago was 42, according to statistics.
Wildlife experts attributed reasons like obstruction of elephant corridors, change in crop pattern and non-availability of enough food and water in forests for growing jumbo attacks in the state. Cash crops growing in fringe areas of forests also attract many elephants to human habitats, said an expert, adding the straying habit can be contained effectively by managing elephant corridors intact. According to revised estimate on jumbo population, the south region accounted for 14,612 elephants followed by north-east at 10,139. Among states, Karnataka topped with 6,046 elephants followed by Kerala at 5,706.