Girl dies of 'starvation' after ration card caught in tech glitch over Aadhaar
Oct 16, 2017 05:24 PM IST
Santoshi Kumari, who lived with her parents at Karimati village of Jaldega block here in Simdega, complained of severe stomachache and cramps on September 27. She died within 24 hours
An 11-year-old girl died of starvation in Jharkhand's Simdega district after her family was struck off the government welfare rolls for not linking their ration card with Aadhaar, activists have claimed.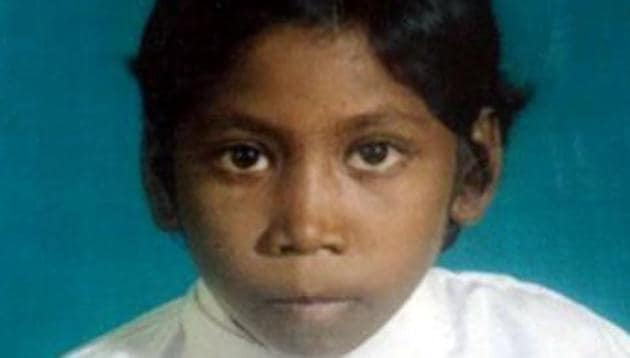 Santoshi Kumari died on September 28 after starving for four days, her mother Koili Devi told activists. The family had not received any ration since February but subsisted on doles from villagers and the mid-day meal Santoshi would get at her school.
Durga Puja vacations began in her school on September 20 -- depriving her of a mid-day meal -- and food stock at her home ran out in a few days. Santoshi, who lived with her parents at Karimati village of Jaldega block here in Simdega, complained of severe stomachache and cramps on September 27. She died within 24 hours, her mother said.
"The family was not receiving ration due to the government's mandate for Aadhaar seeding," said Dheeraj Kumar, one of the five activists involved in the investigation. The family had Aadhaar cards but the seeding failed because of technical glitches, the activists added.
Jaldega block development officer Sanjay Kumar Kongari confirmed the family's name was struck off from the list of beneficiaries of the public distribution system after failure in Aadhaar card seeding. Kongari, however, said Santoshi died due to malaria.
Activists said the girl's father was unstable and didn't have an income. Koili Devi and her elder daughter, 20, sold medicinal neem twigs (Daatun) and earned Rs 80 a week. Villagers would also give the family rice in return for shepherding cattle. Santoshi's one-year-old brother would get food from the local Anganwadi, which the family would share equally among all members.
The state government has pushed for Aadhaar seeding for all welfare schemes in line with the Centre's plan of using the controversial 12-digit biometric identity number to weed out fakes and duplicates from welfare rolls. But activists have flagged a number of implementation snags with the seeding process, especially in far-flung areas with feeble internet penetration, and say genuinely poor people might be denied their entitlements because of the rush in seeding.
In Jharkhand, the government has aggressively pushed Aadhaar since January last year but hasn't declared any deadline for the seeding process, which is said to be 98% complete. Last month, the administration declared that 1.1 million people had been struck off the rolls as fakes or duplicates.
The state, among the poorest in the country, gives 35 kilograms or rice or wheat for a ration card.
The challenges faced by Koili Devi's family were highlighted by local activists to Simdega deputy commissioner Manjunath Bhajantri during a public meeting on August 21. However, the family received its ration card after Aadhaar seeding only on October 10, almost a fortnight since the minor girl's death, the activists said.
Bhajantri did not respond to HT's phone calls.
State food and public distribution director Sunil Kumar Sinha told Hindustan Times that a team of food commission experts had inspected the case on Friday and their report was awaited. He added that the district grievance redressal officer (DGRO) had been asked to probe the case and submit a report to the department.
"We will come out with a statement after receiving the probe reports from Simdega," said Sinha.
During the independent investigation, a team of five right to food activists – Jawahar Mehta, Asharfi Nand Prasad, Taramani Sahu, Akash Ranjan and Dheeraj Kumar—visited the family in Simdega and studied the challenges they had to face due to failure in Aadhaar seeding.
The team said the family still lived in penury and slept empty stomach most days. Koili Devi was quoted by the team as saying that the entire family at times survived on packaged food from the Anganwadi centre.