Two night shelters started for women in Gurugram
Jan 09, 2023 11:58 PM IST
The district administration on Monday announced that two of the 11 night shelters in the city -- at Railway Station and Bhim Nagar -- will be made women-only and the inmates will be provided dinner and morning tea
The district administration on Monday announced that two of the 11 night shelters in the city -- at Railway Station and Bhim Nagar -- will be made women-only and the inmates will be provided dinner and morning tea. Also, adequate police personnel will be deployed at these two spots to ensure the safety of women who take shelter at these centres.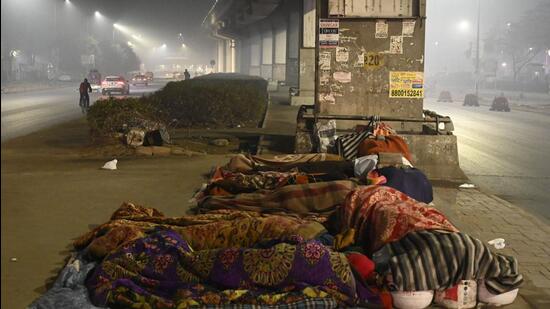 The development comes three days after HT reported that in the absence of women-only shelters, hundreds of homeless women were forced to brave the biting cold out in the open.
Gurugram deputy commissioner Nishant Kumar Yadav said they visited the spots on Saturday and checked the conditions of the night shelters before making them exclusive for women. "We have identified the locations where homeless women sleep at nights and teams will start visiting them from Monday night to convince them to shift to these centres. The teams have also been asked to collect data on the homeless people and the areas where they sleep. The centre in-charges have been asked to update the occupancy status on a daily basis and also the menu of the meals provided to women inmates," he said.
The night shelters have a capacity to accommodate 100 women and washrooms are attached to the shelter so that they do not have to step out at night putting their safety in jeopardy, said officials.
Yadav said they will seek help from Civil Hospital and will provide health checkups for woman and also supply them a basic medical kit. "We will make provisions for a doctor on call and paramedic staff, if needed. We will rope in NGOs to organise health camps for women and sensitise them on personal hygiene," he said.
The DC also said they will seek police help for deploying women personnel at the two night shelters. "Our aim is to provide a safe and secure place for women so that they are encouraged to sleep there, instead of in the open. Once a few start moving in, others will follow. We have also made arrangements for food," he said.
Sudesh Kumari (60), a widow who has been sleeping near Railway station for the last six years, said she would not leave her "space" for the night shelter. "I have created my own space, and I am not comfortable to move from here. We get donations and food at night; if we shift, we will not receive anything and it will be difficult to make ends meet," she said.
Another woman, who has been sleeping at Bus stand near Sadar market for past many years, said she is willing to shift. "It is difficult to sleep under the shed even with two blankets. There is no space to keep our belongings, the shelter home is needed and we will use it during the day too in the winters, if permitted by the authorities," she said.
Till early 2016, the city had only two permanent night shelters -- at the Kanhai community centre and Bhim Nagar which earlier operated as a dog shelter. At that time, six defunct Haryana roadways buses were converted into temporary night shelters. In late 2016, the MCG introduced portable night shelters, and over the next four years, three more permanent night shelters were opened across the city. However, no data is available with the civic agency on the number of homeless in the city.