2nd priest protesting move to develop Jain site in Jharkhand for tourism dies
Jan 06, 2023 01:59 PM IST
Samarth Sagar, 74, began his strike at Jaipur's Sanghiji Temple after another priest died this week while opposing the move
A second priest on hunger strike against the move to develop a Jain pilgrimage site in Jharkhand Parasnath's as a tourist attraction died in Jaipur on Friday even as the Centre on Thursday ordered a stay on all tourism-related activities there.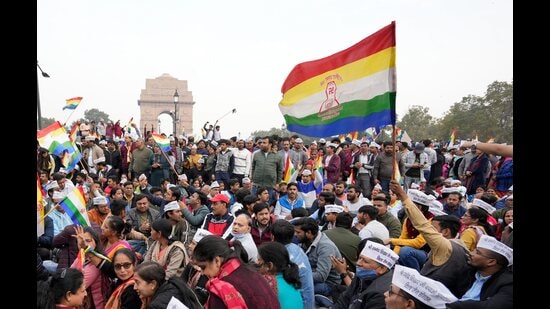 Samarth Sagar, 74, began his strike at Jaipur's Sanghiji Temple after another priest died this week while opposing the move. In his statement, Sagar on Wednesday said he will not have anything except the liquid diet until the decision related to Sammed Shikhariji is not withdrawn.
Top police officers rushed to Sanghiji Temple and spoke to community leaders as Sagar announced his fast. "There is no law to stop them. In their religion, they have the concept of giving up the body for salvation...they stop eating. They are not protesting or sitting on a dharna," said a police officer.
On Tuesday, Sugyeyasagar Maharaj, 72, who was fasting since December 25, died in Jaipur.
The Centre on Thursday directed the Jharkhand government to enforce an existing ban on the sale of liquor, other intoxicants, and non-vegetarian food in Parasnath Hills, where the sacred site Sammed Shikhariji is located, amid protests against the decision to develop it as a tourist destination.
The Centre's order came after Union minister Bhupender Yadav met representatives of the Jain community on Thursday and assured them that their concerns will be addressed.
The Centre in August 2019 declared an area of up to 25 kilometres around the boundary of Parasnath and Topchanchi Wildlife Sanctuaries in Giridih and Dhanbad districts as an ecosensitive zone and allowed ecotourism in the area on the state government's recommendation.
Jharkhand chief minister Hemant Soren wrote to Yadav for "adequate decision" on the matter on Wednesday while underlining the measures taken to maintain the sanctity of Sammed Shikhariji.
Rajasthan chief minister Ashok Gehlot earlier spoke to Soren over the matter. Congress leader Sachin Pilot also wrote to the Centre and asked it to protect the pilgrimage site.