Jaipur Literature Festival 2023 to begin tomorrow
Published on Jan 18, 2023 08:43 PM IST
The festival will host over 350 speakers from across a vast array of nationalities, as well as recipients of major awards such as the Nobel, the Booker, International Booker, the Pulitzer, among others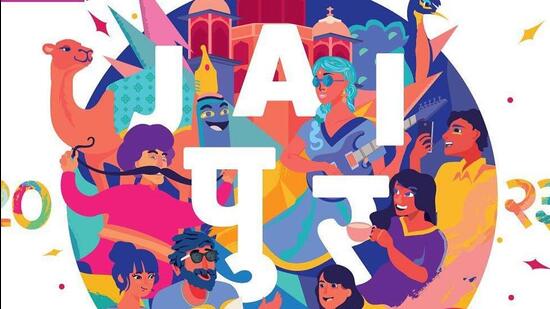 The Jaipur Literature Festival 2023 will begin on Thursday at Hotel Clarks Amer in the city.
The diverse programme for the 16th edition will feature some of the most celebrated authors across the world. The festival displays 21 Indian and 14 International languages with sessions spread across 5 venues.
The festival will host over 350 speakers from across a vast array of nationalities, as well as recipients of major awards such as the Nobel, the Booker, International Booker, the Pulitzer, the Sahitya Akademi, Baillie Gifford, PEN America Literary Awards, the DSC Prize for South Asian Literature, the JCB Prize for Literature, among others.
The festival will also showcase world thinkers such as Nobel Laureate Abdulrazak Gurnah; G20 sherpa of India, Amitabh Kant; leading economist and the Chairman of the Economic Advisory Council to the PM, Bibek Debroy; ambassador of France to India Emmanuel Lenain; celebrated poet, lyricist and author Gulzar and Javed Akhtar; poet, critic, and author Makarand R Paranjape; founder of Infosys Foundation Sudha Murty, among other renowned personalities.
Also Read: JLF 2022: Like walking through a food court for the mind
The festival will cover subjects such as the ongoing climate justice debate under the urgency of borrowed time theme; great women writers and artists focusing on the female voice and identity, crime fiction, memoir, translation, poetry, economics, tech morality and artificial intelligence (AI), the global crisis in agriculture, Russia-Ukraine conflict, violence unleased by the British Empire, cutting-edge science, India at 75, remembering Partition, geopolitics, art and photography, health and medicine, among others.
The festival will offer five days of evocative literary discourses, musical performances, art installations, merchandise, local cuisine and more.
It will also host a heritage evening on January 22 at Ganesh Pol, Amber Fort, Jaipur.
Showcasing world music with a diverse mix of genres and artistes - The Jaipur Music Stage, which runs parallel to the festival, will be a 3-day programme, set to run from 19-21 January.
The literary show will also live-stream some key sessions which will be available on the festival's microsite.