Aficionados taste king of fruits in the lap of nature
Updated on Jun 27, 2022 12:53 AM IST
The king of fruits unquestionably merits the additional attention it receives, particularly in June, recognised as National Mango Month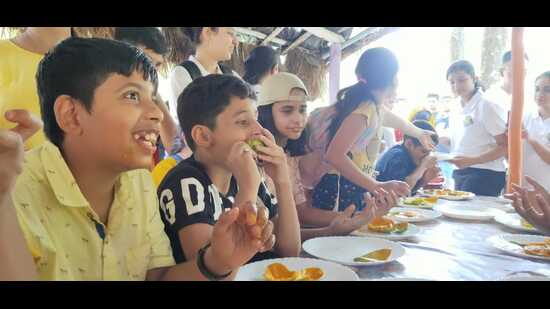 The king of fruits unquestionably merits the additional attention it receives, particularly in June, recognised as National Mango Month. To celebrate the 10th Mango Festival which is being organised since 2012, the Lucknow Farmers Market and Awadh Mango Growers Association team visited a mango orchard at Vintage Village, Gulripurva, in Sitapur district on Sunday. They were assisted by Maaza, Lebua, Geetanjali, fever FM 104, and CISH (Central Institute for Subtropical Horticulture).
The event brought together more than 500 people, including volunteer students from over 50 colleges in Lucknow, Mumbai, and Pune, and groups of friends and families who ate freshly plucked mangoes of different varieties including dasheri, chausa, safeda, langada, sinduri, kalmi etc at the orchard.
Children enjoyed the 'mango eating competition'. There were also activities like archery, horse riding, rope climbing etc. Children were also told stories from Ranita of Katha Choupal.
"I'm pleased to bring back the festival because it has grown into a yearly occasion and this time, we've received messages from people worldwide. We look forward to preserving this essential aspect of our culture, increasing tourism and investment in Lucknow, helping local farmers, and boosting the rural economy," said Jyotsna Kaur Habibullah, founder, Awadh Mango Growers Association and organiser of the event. "This will be the next step in making Lucknow the mango capital of India and the world, an innovative step to bring people to Lucknow to savour our famed mangoes, one of which, Lal Bebaha, was the favourite of Nawab Wajid Ali Shah," she added.
"Many people don't even get to view these mango orchards hidden in the surrounding vegetation. We considered turning our private orchard into a tourism destination so that visitors might come and enjoy the mangoes away from the bustle of the city, keeping in mind that people are moving further away from their roots," said Abbas Jafri, owner of Vintage Village orchard.
"From being a single-day event, it has now evolved to provide an online platform to growers, artisans, farmers and start-ups working on sustainable living solutions, allowing them to connect directly with the consumers," said Shivi Awasthi, director of operations, Lucknow Farmers Market.
On the 28th of June, CISH will organise 'Mango Show' to provide an interface with mango growers and scientists in order to share best practices at CISH, Rehmankhera, Lucknow.
Close Story
Personalise your news feed. Follow trending topics