Hours after tremors, multi-storey building collapses in Lucknow; rescue ops on
Updated on Jan 24, 2023 09:51 PM IST
Uttar Pradesh chief minister Yogi Adityanath has taken cognisance of the building collapse in the state capital. He immediately directed the officials to ensure that the injured are rushed to the hospital and receive proper treatment. He also asked several hospitals to stay on alert.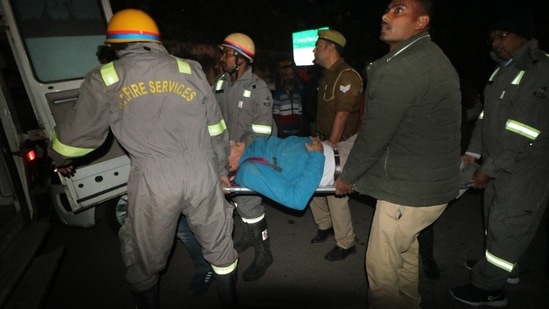 Eleven people have been rescued from the debris of a multi-story building which collapsed in Lucknow's Wazir Hassan area on Tuesday, this after an earthquake which hit Nepal and impacted parts of northern India and Lucknow, might have caused the collapse.


"Prima facie it appears a case of natural disaster. Perhaps the 5.8 intensity earthquake coupled with the building being in a riverine belt—as the Gomri river is nearby—could have cause the incident. Of course some construction work was going on in the building, but they were the light work, there were no construction machines", Uttar Pradesh director general of police (DGP) DS Chauhan said.

"So the construction work could not have been the cause. Sitll everything is a matter of investigation. Structural experts will do investigations. Anything conclusive could be said only after the investigations. We expect that the rescue work will go on till at least next 18 hours", he added.

Uttar Pradesh chief minister Yogi Adityanath has taken cognisance of the building collapse in the state capital. He immediately directed the officials to ensure that the injured are rushed to the hospital and receive proper treatment. He also asked several hospitals to stay on alert.

Deputy chief minister Brajesh Pathak reached the site and said the efforts are underway to ensure that all people trapped under the debris are rescued.

"Building collapsed suddenly. 3 dead bodies have been found & sent to the hospital. NDRF, fire brigade personnel present at the spot, rescue operation underway", the deputy CM said.

"A two-storey apartment building in Lucknow's Wazirhasanganj Road collapsed due to the earthquake, the information about several families trapped in the debris is sad. The government should speed up the relief and rescue work to save lives", the Samajwadi Party tweeted.

(With bureau inputs)