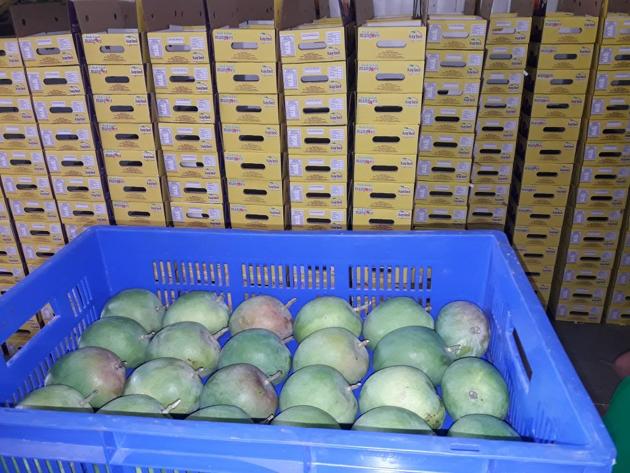 Mangoes for Harley-Davidson deal ups Alphonso exports to US
An announcement was made by then US president George Bush in 2006 during a visit to New Delhi following which the exports of mangoes to the United States were revived after almost two decades in May 2007.
Hindustan Times, Pune | By Shrinivas Deshpande
UPDATED ON MAR 07, 2018 06:39 PM IST
The export of Alphonso mangoes from India to the United States has seen a substantial rise over the last 10 years, particularly after India allowed the import of Harley-Davidson motorbikes in exchange for the famous Alphonso mangoes, in a swap deal in 2007.
Mango exports to the US have consistently risen since 2007, a senior official from the agricultural and processed food products export development authority (Apeda) said in an interview on Tuesday. "Yes, the Harley Davidson deal (of 2007) seems to be a win-win situation for our farmers. As you can see, there is a sharp increase in mango exports to the US. The US is among the top five countries besides the UAE, Saudi Arabia, Nepal and UK," Apeda's deputy general manager Sudhanshu, who does not use his last name, said.
Sudhanshu said that India exported 615.53 metric tonnes of Alphonso mangoes to the US in 2016-17, from nil in 2007-08. However, this is nowhere close to the 3,000 tonnes that were exported to the UK in the same period. During 2016-17, India exported a total of 50,000 tonnes of mangoes valued at Rs 420.36 crore.
UAE was the highest importer at 28,483 tonnes, followed by Nepal (9.415 tonnes), UK (3,030 tonnes) and Saudi Arabia (2,371 tonnes).
Exports of mangoes to the United States were revived after almost two decades in May 2007after an announcement was made by the then US president George Bush in 2006 during a visit to New Delhi. In exchange, India reciprocated by allowing imports of the iconic Harley-Davidson motorbikes, provided they complied with Euro-III emission norms.
Prior to 2007, mango exports suffered from US trade barriers because of poor pest control, specifically fruit flies, in the produce.
After the swap deal was struck with the US, export consignments were irradiated at a plant at Lasalgaon, Nashik, which was used to irradiate onions. Two additional irradiation plants were set up at Mumbai and Bengaluru, Sudhanshu said.
Maharashtra agricultural minister Pandurang Phundkar said, "Since Maharashtra is playing a very crucial role in mango exports, we have initiated a number of steps in this regard. We have started an irradiation centre in Mumbai and plan to establish more in the near future."
Sharad Paranjape chairman of Kelshi mango producers association, Ratnagiri, said last year, they had dispatched 95,000 boxes, 12 kg each, to Mumbai for exports. "The irradiation centre in Mumbai has helped us a lot," he said.
All mangoes exported to the US are irradiated at Barc (Bhabha atomic research centre) in Mumbai which has a capacity to handle one tonne per hour, said DM Sabale, additional general manager, Maharashtra state agricultural marketing board (MSAMB).
Close