Marathi author Nemade's works digitised
The credit for this initiative goes to the members of the 1994 civil services batch who studied Marathi Literature as an optional subject.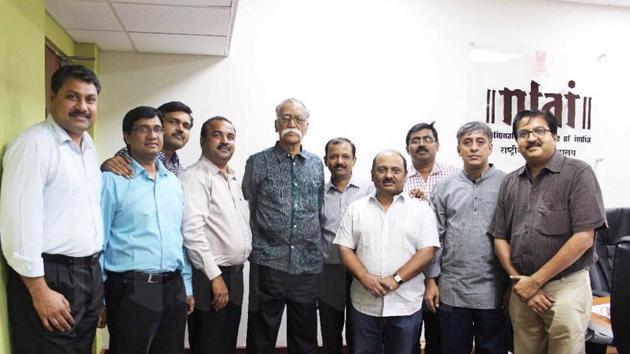 Updated on Mar 14, 2018 02:57 PM IST
Hindustan Times,Pune | By Prachi Bari
The batchmates of 1994 civil services have given a new dimension to the works of noted Marathi author and Jnanpith awardee Bhalchandra Nemade by digitising his original manuscripts for the use of future generations. His most acclaimed novels, Kosla and Bidhar have now been digitised and National Film Archive of India (NFAI) holds a copy each of these two books.
"Many of officers who have cleared civil service had taken Marathi literature as an optional subject while preparing for the Union Public Service Commission(UPSC) exams. When you study Marathi literature, you understand the importance of Bhalchandra Nemade and how his work has impacted many sphere apart from the fictional world," said Prakash Magdum, Director NFAI.
It was during the screening of a documentary film called "Udaharanat Nemade' made by Akshay Indikar that officials, who had gathered there, decided to digitise his work. A closed screening was organized at NFAI where eminent personalities like Jabbar Patel and Satish Alekar attended, said Magdum.
"During the screening, I asked Indikar about the draft shown in the film. He said that it was the draft of Kosla which he has in his Mumbai home. I immediately felt the need to preserve and digitise it," said Magdum.
The credit for this initiative goes to the members of the 1994 civil services batch. Close to 12 officers, who were part of the initiative are serving in Pune including Sangram Gaikwad, commissioner of income tax and Amol Jagtap,CEO, Khadki Cantonment Board. "We did it independently. We found one vendor who had earlier worked with NFAI . Both Kosla and Bidhar have been digitised. One copy has been retained with NFAI and the other is with the officials," said Gaikwad.
"When a film was screened here, we met Nemade. We saw that the manuscripts were in good condition. It was a joint effort to preserve the scripts. Kosla was written in 1963 when Nemade was 25 years old , and Bidhar was written in 1977.
"Kosla was a milestone in Nemade's literary career. For us, Nemade is not only a writer, but also a teacher. He has shaped our mind. He is an intellectual giant and has multidisciplinary knowledge," said Gaikwad,commissioner Income Tax. "We are his admirers, so much so that we opted for Marathi literature as a subject for the civil services. Gaikwad is also a graduate of COEP.
He personally went to Mumbai to give Nemade the digitised version of the manuscript .The latter was very happy and very pleased with the idea and execution. Interestingly people from Chicago, but nobody from Maharashtra had approached him for digitisation.
Close Story