Mumbai: BMC to appoint consultant to suggest measures for landslide-prone areas
While BMC will bear the cost of appointing a consultant, the construction or work cost will be borne by the respective agencies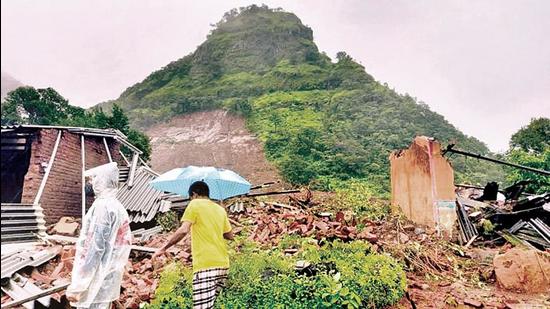 Published on Jul 31, 2021 09:03 PM IST
By Eeshanpriya MS
, Mumbai
To prevent disasters at landslide-prone sides across Mumbai, some of which are on the land owned by the collector or Maharashtra Housing and Area Development Authority (Mhada), the Brihanmumbai Municipal Corporation (BMC) has decided to appoint a consultant to survey these sites and suggest corrective measures. These measures will be suggested to the respective agencies who own such land and will be implemented by the agencies. While BMC will bear the cost of appointing a consultant, the construction or work cost will be borne by the respective agencies.
The decision was taken as part of a multi-agency mid-monsoon review meeting conducted at BMC's disaster management department on Friday. Representatives from Mhada, Mumbai Metro projects, the public works department, Brihanmumbai Electric Supply and Transport (BEST), and BMC department heads were present at the meeting.
Suresh Kakani, additional municipal commissioner in charge of BMC's disaster management department said, "As per an earlier survey conducted by Geographical Survey of India (GIS), landslide-prone spots across Mumbai have been categorised into light, moderate, and critical. There are 20 such critical spots that BMC has decided to focus on for immediate corrective measures. These spots are mostly in the eastern suburbs, in the S ward, (Bhandup area) and the L ward (Kurla area)."
Among corrective measures that can be taken to prevent landslides are ramping up the drainage, construction of retaining walls, plantation of trees, strengthening the hillside by nut bolt intervention, to fix lose a portion of the hill.
"After the interventions are suggested by BMC, the respective agency can organise funds to implement the suggestions, or district planning and development funds can be utilised where possible," Kakani added.
Close Story