Petrol and diesel prices in Mumbai soar to all-time highs again
A litre of petrol was selling at
₹
114.14 and that of diesel was priced at
₹
105.12 in Mumbai. Their prices increased by 34 and 37 paise respectively as prices were hiked for the second day on Thursday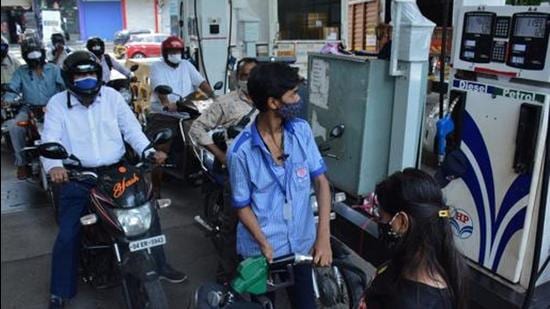 Updated on Oct 28, 2021 10:17 PM IST
Fuel prices in Mumbai again soared to an all-time high on Thursday as petrol crossed the ₹114 mark while diesel ₹105 in the city. A litre of petrol was selling at ₹114.14 and that of diesel was priced at ₹105.12 in the city. Their prices increased by 34 and 37 paise respectively as fuel prices were hiked for the second day on Thursday.
Transporters have claimed that the fuel hike has led to the unemployment among them.
On Wednesday, a litre of petrol was priced ₹113.80 and diesel at ₹104.75 compared to ₹113.46 and ₹104.38 on Sunday.
Fuel prices surged in Thane on Thursday as well. A litre of petrol was available at ₹114.27 while that of diesel at ₹105.25.
In Delhi, a litre of petrol was selling at ₹108.29 while that of diesel was at ₹97.02.
In Maharashtra, petrol was the costliest in Parbhani on Thursday and priced at ₹117 08 and a litre. Diesel was costliest at Amravati at ₹106.66.
The Maharashtra State Road Transport Corporation (MSRTC) had earlier this week increased its bus fares citing hike in fuel prices.
Transporters have stated that inflation in the country has reached to high levels and the government is doing nothing to provide relief to the common citizens. They claimed that the rising prices are leading to unemployment among transporters.
"The inflation in the country has reached abnormally high levels on account of continual hikes in diesel prices. The Central and state governments have been insensitive and have refrained themselves from providing any tangible relief to the common citizens and the transport fraternity of 20 crore. The situation is turning pathetic as diesel and petrol prices have crossed ₹100-mark in most of the cities in the country. The rising fuel prices have halted the vehicles of small-time operators leading to unemployment," said Bal Malkit Singh, chairman, All India Motor Transport Congress (AIMTC).
Close Story