Man held for ATM fraud in Noida
Oct 02, 2021 11:32 PM IST
A 25-year-old man was arrested on Saturday for allegedly tampering with an ATM and fraudulently withdrawing cash in Noida's Sector 51
A 25-year-old man was arrested on Saturday for allegedly tampering with an ATM and fraudulently withdrawing cash in Noida's Sector 51. The suspect was identified as Maan Singh Nishad, a native of Etawah.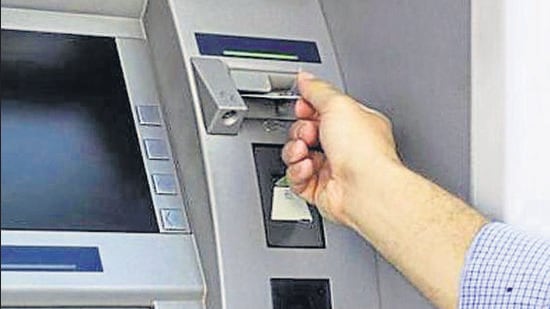 Police said that they had received complaints from some banks that some miscreants were involved in manipulating ATMs.
Sanat Kumar, sub-inspector at Sector 49 police station, said that police received information about the presence of a suspect near an ATM in Sector 51 market. A police team reached the spot and apprehended the suspect, he said.
Police recovered two debit cards, ₹19,600 in cash, a motorcycle, and a knife from his possession. The suspect revealed that he had taken these debit cards from two vulnerable people from his hometown.
"Nishad had found a trick to manipulate the machine and withdraw money. He used to visit different ATMs and first deposit some cash using a deposit machine. He then tried to withdraw cash from an ATM. Once the machine dispensed cash, the suspect used to grab the cash and then pushed back a few notes inside the machine to ensure the transaction failed," he said.
Nishad also carried a knife to threaten the ATM kiosk security guards if they put up resistance to his suspicious activities, police said, adding that the suspect had been doing such activities for the last one year.
Vinod Kumar, SHO of Sector 49 police station, said police are investigating his crime records. "We are yet to figure out the number of ATMs he manipulated. A case has been registered against him under Section 420 (cheating) of IPC. The suspect was produced in a court that sent him to judicial custody," he said.