Nilgai who fears no khaki
Published on Jan 19, 2023 11:43 PM IST
Masuri police station is adjacent to national highway 9 and is near the upper Ganga canal stretch, which has thick vegetation and is a wildlife habitat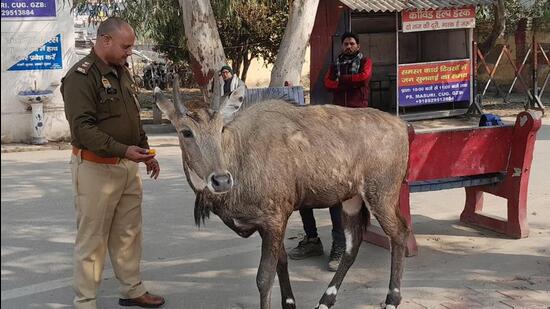 For the past one month, Masuri police station in Ghaziabad has been getting an unusual visitor – an adult nilgai – which goes away after being fed by police officers.
Masuri police station is adjacent to national highway 9 and is near the upper Ganga canal stretch, which has thick vegetation and is a wildlife habitat.
"The nilgai has been visiting the station often for the past one month. It goes away after we give it some food and fodder," said RC Pant, station house officer of Masuri police station.
Police officers said they ignored the animal when it first entered the police station from the gates, which are always open.
"Initially we did not offer it anything to eat, thinking that it strayed into our station. However, it came again after a couple of days and some officers offered it food. Since then, whenever it comes, we give it some fodder or rotis. It comes mostly in the morning and stay for 15-20 minutes and leaves after eating some food. This nilgai seems to have some difficulty in walking and its behaviour is not aggressive towards us," Pant added.
Officials of the divisional forest department said nilgai is a wild animal and stays away from humans.
"The male nilgai is often aggressive and has a tendency to attack. These animals stay away from humans and are generally found in thick vegetation. They also cause extensive damage to crops such as wheat. The nilgai that is visiting the police station has probably put trust in humans that they will not try to tame or harm it and will provide it some food. So, it comes there and goes away," said Ashutosh Pandey, sub-divisional officer from the divisional forest department.
He added that taming or keeping a nilgai tied up is illegal.
"These animals get aggressive if anyone tries to tame them or tethers them. They generally stay in hiding and often run away from humans," he said.
An adult nilgai weighs 100-130kg and can move at a speed of 30-40kmph, officials said.