Caught on CCTV, Bengaluru dentist throws her 4-yr-old daughter from 4th floor
Updated on Aug 05, 2022 09:40 PM IST
Bengaluru horrow: A senior police officer said that the entire incident was caught on a CCTV camera installed in the building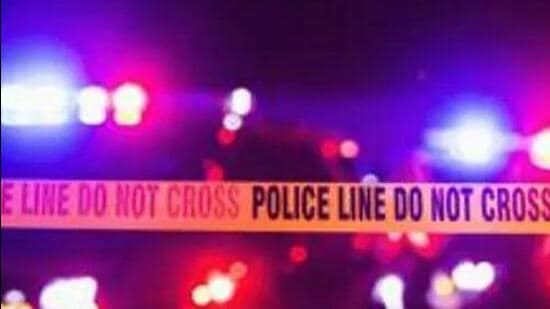 A Bengaluru woman seen throwing her four-year-old daughter from the fourth floor of an apartment complex in a widely-circulated video has been arrested on murder charges, police said on Friday.
The incident took place at an apartment complex in Bengaluru's Sampangiramanagar on Thursday.
CCTV footage from the apartment complex showed the woman climbing on the railings after throwing the child and standing for a few seconds before she was pulled back by neighbours.
"Some neighbours heard the cries of the child and rushed for help. They pulled her back and informed the police. The child who had crashed on the ground was rushed to a private hospital and then to NIMHANS, where she succumbed to her injuries," deputy commissioner of police (Central) R Srinivas Gowda said.
Also Read: FTII student, 32, found dead in hostel room. Suicide suspected, say police
According to the police, the woman is a dentist and her husband is a software engineer. The couple got married 12 years ago. The four-year-old girl was hearing and speech impaired. Due to this, the woman was stressed, the officer added.
She was arrested after her husband filed a police case. "We have booked her under section 302 of the Indian Penal Code for murder. She was produced before the court and has been sent to judicial custody," he added.
Initial investigation suggests that the woman attempted to get rid of the child a few months ago by leaving her on a train, the DCP said. The husband then brought the child back home with the help of child helpline members but didn't file a complaint against her.
Police also suspect that the woman may have staged her attempted suicide by climbing on the railings after throwing her daughter. "We found something was off about her action, particularly her reactions after climbing on the railings. So, we have questioned her and we believe she was staging the suicide attempt."
A similar incident was reported in Bengaluru on August 27, 2017, when a mother suffering from depression threw her seven-year-old speech-impaired daughter from a building. The accused threw her child from her rented flat in Jaraganahalli in JP Nagar and when she realised that the child was still breathing, she went down, picked up the child and threw her again from the terrace, leading to the child's death.
If you need support or know someone who does, please reach out to your nearest mental health specialist.
Snehi: 011-65978181
Sumaitri: 011-23389090
Close Story
Personalise your news feed. Follow trending topics