'My City My Heritage' campaign: IndiGoReach, IGF begin drive with walk in Prayagraj
Updated on Dec 12, 2022 11:19 PM IST
IndiGoReach, the CSR arm of IndiGo and InterGlobe Foundation (IGF), the philanthropic arm of InterGlobe Enterprises, organised their first heritage walk in Sangam city on Monday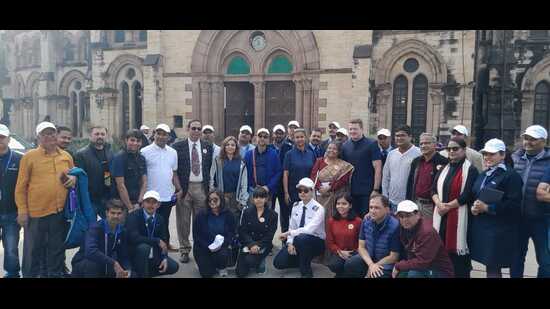 IndiGoReach, the CSR arm of IndiGo and InterGlobe Foundation (IGF), the philanthropic arm of InterGlobe Enterprises, organised their first heritage walk in Sangam city on Monday. As part of the 'My City My Heritage' campaign, IndiGoReach supported by IGF will organise heritage walks in five cities across the country including Prayagraj, Bhubaneswar, Nashik, Hyderabad, and Indore.
These walks aim to set the tone for conversations and partnerships around the preservation of heritage buildings and to instill a sense of pride among the communities living in the vicinity of these monuments and the travellers visiting these cities, informed the organisers.
The walk was led by Kavita Gupta and curated by Cultre, a venture that fosters heritage appreciation. It covered destinations from Canning Road to MG Marg, appreciating historic landmarks like the Civil Lines Police Station, Nagar Nigam Office, All Saints' Cathedral, Barnett Hotel, Indian Coffee House, Mercantile Building, Palace Theatre, before concluding at El Chico.
"This heritage walk is a part of the 'My City My Heritage' campaign which was announced in November 2022 to raise awareness about the value and importance of heritage and culture in India", said Pieter Elbers, CEO, IndiGo
He said, "We are pleased to commence the first heritage walk under the 'My City My Heritage' campaign from Prayagraj, which has been one of the epicenters of Indian history and played an important role in the Indian freedom movement. I was personally excited to join the walk as the city has been home to many great freedom fighters and pioneers of the country," he added.
Rohini Bhatia, chairperson, InterGlobe Foundation, said: "InterGlobe Foundation is proud to be part of the 'My City My Heritage' campaign's first heritage walk in Prayagraj. Through this campaign, we aim to raise awareness and motivate people to preserve, protect, and promote our cultural roots. We hope to encourage greater participation in the preservation of our built and cultural heritage, which reflects our rich past and links us to our future."