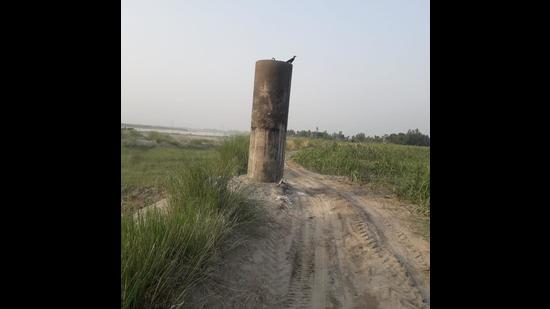 Pillars to mark Haryana-UP boundary along Yamuna course
Work on erection of cemented pillars has begun to define the state border between Haryana and Uttar Pradesh almost 46 years after both the states agreed to the Dikshit Award
PUBLISHED ON JUN 16, 2021 12:22 AM IST
Work on erection of cemented pillars has begun to define the state border between Haryana and Uttar Pradesh almost 46 years after both the states agreed to the Dikshit Award.
The work has started after demarcation by the Survey of India as a pilot project in Karnal's Barhi Kalan village and the pillars will be erected to serve as boundary between the two states.
Officials said that this will end the decades-long dispute arising among farmers who own land on the floodplains, due to changes of course of river Yamuna.
Officials said that a pillar of 21 meters- including 15 meters under the ground, will be erected at every turn of the river on both sides.
Karnal deputy commissioner Nishant Kumar Yadav said the process has begun on trial-basis at Barhi Kalan village in district and two pillars have already been erected.
He said that the Survey of India has marked a total of 44 spots and 24 pillars will be erected by the UP government and 20 by the Haryana PWD. As per the detailed project report (DPR), 396 pillars each will be installed by the Haryana and UP governments in 10 villages of Karnal district alone.
Officials working on the project said that a total stretch of about 370km along Yamuna (from Yamunanagar to Gurugram district in Haryana and Saharanpur to Aligarh district in Uttar Pradesh) will be covered.
This will help resolve disputes over thousands of acres in 234 villages of both the states.
Gaurav Singh, project head of the Survey of India, said, "The demarcation from both the sides in Karnal's Barhi Kalan village has been completed and work on installation of pillars has been started."
"A meeting will soon take place to start work on the project in other districts and this will cover around 370km of Yamuna belt in both the sides as per the Dikshit Award, 1975 (Haryana and Uttar Pradesh Alternation of Boundaries)," he said.
However, no deadline has been fixed yet to complete the project.
Farmers hailed the move and said that this was a long-pending demand of farmers from Yamuna belt in both states.
"In lack of defined boundaries, we had to face problems as our land is located on both sides of the river. But this move will help end the dispute," said Ishwar Singh, a farmer from Chogawan village in Karnal.
Earlier, officials of the revenue department, especially in Indri tehsil, faced problems as consolidation of land could not take place in some villages and the work of drone mapping could not be completed in villages along the Yamuna belt.
Close