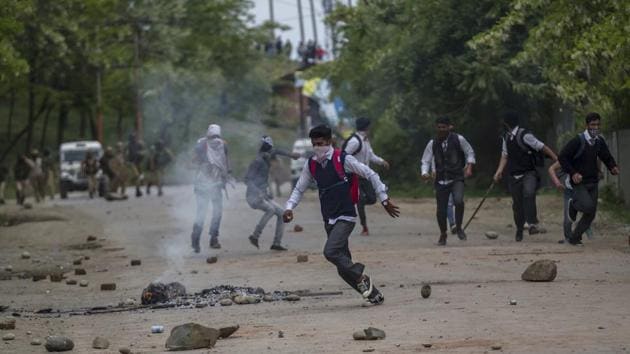 Pakistani channels, Zakir Naik's Peace TV go off air in Kashmir after govt order
Cable networks in Kashmir Valley stopped the transmission of most of the 34 channels including Pakistani and Saudi television stations that the government ordered was halted.
UPDATED ON MAY 07, 2017 06:55 PM IST
Pakistani and Saudi channels went off the air in most parts of Kashmir on Sunday triggering sarcasm in social media, a day after the Jammu and Kashmir government ordered cable networks to remove 34 channels from their platforms.
The government's order signed by principal secretary (home department) RK Goyal, said the transmission of these channels was against the cable TV rules and district magistrate had the power to seize the equipment in case of a violation. Moreover, it added, such channels have the "potential to encourage or incite violence and create law and order disturbance in the Kashmir Valley".
Deputy Commissioner, Pulwama, Muneer ul Islam told HT that in his district the ban was successfully implemented and soon after receiving the order he had asked the cable operators to adhere by the same. He added that most of the channels on the list were not being transmitted for a long time now.
The May 6 order came a day after Union information and broadcasting minister M Venkaiah Naidu expressed concern over reports that these channels, many of which propagate hardline Islam and indulge in anti-India propaganda, were being broadcast without the government's permission.
Topping the list are the Urdu and English channels of Peace TV of controversial Islamic preacher and TV evangelist Zakir Naik against whom the NIA and the ED have filed cases under the under the unlawful activities (prevention) Act and money laundering laws.
Some of the channels are from Pakistani networks such as ARY, PTV and GEO. Several Islamic channels like Karbala TV, Ahli-biat TV, Noor TV and Hadi TV are also mentioned in the order along with a sports channel, two culinary channels and a music channel.
Cable operators cannot beam channels not permitted by the information and broadcasting ministry. Private cable networks, which beam a lot of Pakistani and Saudi channels, are popular though satellite services such as Tata Sky and Airtel are also available in the Valley.
On Sunday afternoon, authorities told HT that the ban was being implemented while residents, subscribing to different cable networks, gave a varied response regarding the channels they were not receiving.
Some Srinagar residents said most Pakistani news channels were not accessible while Peace TV English and Urdu both were, while others said none of the 34 channels were displayed. Some, however, said all the 34 channels were still being transmitted while sources say by Monday the blanket ban should be implemented completely.
"The cable operators had stopped broadcasting Pakistani channels-- mostly 24x7 news like the ARY group—after the unrest began post killing of Hizb commander Burhan Wani. The channels were back recently before being taken off air after the Saturday's order," a Srinagar resident said.
On social media, many Kashmiris criticized the move by arguing that such channels were not responsible for fueling protests.
"This is hilarious. Pakistani sports channels and drama serials incite violence," tweeted political analyst Gowhar Geelani.
Blogger Muhammad Faysal wrote on Twitter, "Apparently my mother has been radicalised by the daily dose of Humsafar and Zindagi Gulzar Hai."
Novelist Mirza Waheed tweeted, "Of course, TV channels, internet, social media are all behind the unprecedented uprising in Kashmir. How can these people have agency, eh!"
Last month, the state government banned 22 social media sites, including Facebook, Twitter and WhatsApp, in an attempt to check deteriorating law and order situation.
The Kashmir Valley is battling a fresh round of clashes between locals, most of them students, and security forces as well as militant attacks while infiltration and cross-border firing are on the rise along the Pakistani frontier.
Close