Bihar minister defiant after remarks on Ramcharitmanas
Jan 12, 2023 10:00 PM IST
Religious texts like Ramacharitmanas spread hatred just as 'Manusmriti' and Golwalkar's 'Bunch of Thoughts' created social divide in different eras, the RJD leader had said.
Bihar's education minister Chandrashekhar, who has been facing fire for his controversial statement on Wednesday on epic "Ramcharitmanas" during a speech at a university convocation, remained defiant on Thursday and refused to apologise even as chief minister Nitish Kumar pleaded ignorance on the matter.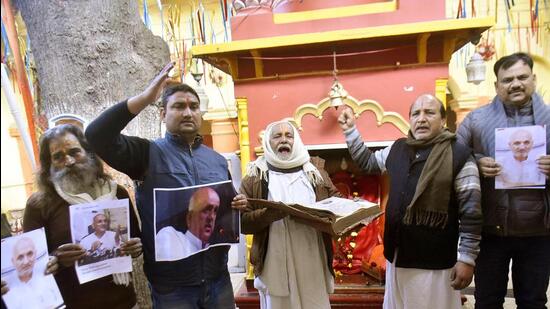 "I don't know what's it about... I will find out from the minister," Kumar told reporters in Madhubani on Thursday when asked about Chandrashekhar, who had said that "Ramcharitmanas", an epic poem composed by 16th century poet Tulsidas, propagates social discrimination.
"Religious texts like Ramacharitmanas spread hatred just as 'Manusmriti' and Golwalkar's 'Bunch of Thoughts' created social divide in different eras," the minister, who is from the Rashtriya Janata Dal (RJD), had said.
When approached by reporters on Thursday for a response to the widespread criticism of his remarks, he said, "I don't need to apologise, as what I have said is there for anyone to read. The BJP is not aware of the facts and is unnecessarily making a hue and cry over it."
Chandrashekhar is a third-term MLA from Madhepura and was also a a minister in the earlier "Mahagathbandhan" government that came to power in 2015.
Meanwhile, his party RJD defended him. Rajya Sabha member Manoj Jha said the kind of reactions BJP and others are coming out with, "even Kabir would not have been left alive in the country if he were there".
"What I believe is that the minister, while making his statement, also referred to two other books, besides certain portions of the Ramcharitmanas. We all know that these kind of books, howsoever sacred they may be, carry the imprint of the generations of the times they were compiled in. There are indeed some grey areas in several books of all religions. His intent was to refer to only those areas, nothing else," he said.
Chandrashekhar had cited a couplet from Ramacharitmanas — 'adham jati me vidya paye, bhayatu yatha dudh pilaye', which, translated in English, means, "Lower caste people become poisonous after getting education, like snake becomes after consuming milk".
Acharya Kishor Kunal, secretary of the Mahavir Mandir Trust, said the remark was like the story of "blind men and the elephant", in which each blind person had his own and different interpretation of the animal after touching a particular part of its body. "Ramcharitmanas is the greatest epic of love and compassion," he said.
Poet Kumar Vishwas described the education minister as "illiterate" and urged CM Nitish Kumar to sack him and send him to his "Apne Apne Ram" session. "He must seek apology. He has not read Ramcharitmanas. What is more, who gives him liberty to speak against one particular religion. Can he do the same with the scriptures of other religions?" he asked.
BJP has been attacking the minister over his statement and sought his removal from the cabinet. Leader of Opposition Vijay Kumar Singh demanded that a case be registered against the minister for his utterances and that deputy CM Tejaswhi Prasad Yadav clear his stand on it.
LJP (Ramvilas) chief and MP Chirag Paswan said the minister should not be allowed to play with the faith of the people for political mileage. "The minister will not speak about the hatred visible in Buxar, where farmers were beaten up, or lathi-charge on students, but deliberately hurts religious sentiments for political gains. It is part of the divisive politics Nitish Kumar has mastered to keep his chair safe and now his ministers are doing the same".
Leader of Opposition in the Bihar Legislative Council, Samrat Choudharyof the BJP, said that the minister needed to " be treated for mental imbalance". "What he has done is a disgrace for the entire state. Ram has been the binding force in the society. How can one can call him divisive? This is unfortunate," he said.
Union minister Ashwini Kumar Choubey said, "The statement of the foolish education minister, who could not get the inherent message, is aimed at social divide."
Social analyst Nawal Kishor Choudhary said politicians making loaded and selective statements and misinterpreting facts according to their own political convenience was a trend. "Speaking about any one religion in a derogatory manner does not go down well," he said.