PM's niece followed for 15 mins before snatching; 100 officers on case
Police said that they had rounded up more than 50 suspects so far. They also claimed that the suspects had been identified and one of them was from central Delhi while the other may be a juvenile.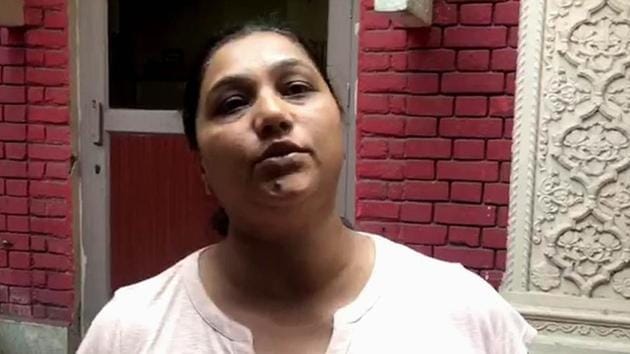 Updated on Oct 13, 2019 10:04 AM IST
Hindustan Times, New Delhi |
Karn Pratap Singh
A woman from Gujarat, who said she is Prime Minister Narendra Modi's niece, became the latest victim of snatchers in the national capital on Saturday morning, within an hour of arriving in Delhi.
Her handbag containing around ₹56,000, two cellphones, debit cards, original identification documents, including her Aadhaar card, was snatched by two men on a scooter outside the entrance of Shree Delhi Gujarati Samaj guesthouse in north Delhi's Civil Lines -- one of the most secured and posh neighbourhoods of Delhi. The place where the incident took place is barely 300 metres away from the residence of Delhi's Lieutenant Governor (L-G) Anil Baijal.
Speaking to Hindustan Times over the phone, the victim Damyanti Ben Modi said she was on a holiday with her husband and two children and had come to Delhi to board a flight to Ahmedabad. Damyanti said she is the daughter of PM Modi's younger brother Prahlad Modi.
Around 6.30 am, they reached the Old Delhi railway station in a train from Amritsar, Punjab.
"We boarded an auto-rickshaw from the railway station to Shree Delhi Gujarati Samaj Bhawan in Civil Lines. As we had to board a flight to Ahmedabad from Delhi airport, we had planned a six-hour stay in the Gujarai Samaj Bhawan," said Damyanti, a homemaker.
Explaining the sequence of events, deputy commissioner of police (north) Monika Bhardwaj said that around 7am, the auto-rickshaw stopped outside the gate of the Gujarati Samaj Bhawan. Damyanti was sitting in the rear seat. She was helping her husband and children take out their luggage.
"Suddenly, two men riding a scooter came close to the auto-rickshaw. They snatched her handbag that was on Damyanti's lap, and sped away. We have registered a case of snatching under sections 379 and 365 of the Indian Penal Code on her complaint. Several teams have been formed to identify and nab the suspects and recover the stolen items," said DCP Bhardwaj, adding that Damyanti did not tell the police about their family connection with the Prime Minister.
"Everything happened within a second. I am shocked that the snatching took place in a high-security area in Delhi. The police responded quickly on my complaint and registered a case," said Damyanti, who left the guesthouse around 1.30pm to continue with the journey to her hometown.
Damyanti said the snatching incident left her panicked because all her and her children's original IDs were there in the stolen bag and they all had to board a flight to Ahmedabad around 4pm. She said the suspects were teenagers aged around 18-19 years and were not wearing helmets. "Fortunately the police helped us get entry at the Delhi airport. All the documents were taken by the snatchers," she said, adding that she did not inform the Prime Minister's office about the incident.
Asked if she had heard from the Prime Minister's office, she said, "I have not received any such call. Maybe he is unware of the case."
Delhi's ruling party AAP condemned the incident and blamed inadequate policing. "With each passing day the law and order situation is going from bad to worse. The alacrity that Delhi Police shows in chasing political opponents of the BJP, is completely absent when it comes to providing safety to the people of Delhi. The most recent victim of this has been the niece of our Hon'ble Prime Minister," Raghav Chadha, national spokesperson of the party, said in a statement.
In the past few weeks, the city has witnessed a series of snatchings wherein motorbike-borne men even used violence while targeting their victims, mostly women. Last month, Joymala Bagchi, a journalist with news agency ANI, was mugged by two motorbike-borne men who fled with her cellphone.
"Crimes increase when criminals do not have the fear of law. To control them, it is necessary to bring back the fear of police and law in their minds. It's the police who should rule the streets with their presence and not let criminals dominate. Merely catching snatchers after their crime won't make much difference. The police should lay traps and nab such criminals on the spot. Also, the police should catch receivers of stolen properties because they know who the criminal are," said former Delhi Police chief, Ajai Raj Sharma.
Topics
Close Story