Chandrakant Patil instructs putting up of slope warning boards between New Katraj tunnel & Navale Bridge
Published on Nov 26, 2022 12:07 AM IST
District guardian minister on Friday held a road safety meeting and discussed the issue of Katraj tunnel to Navale Bridge following a series of accidents on this stretch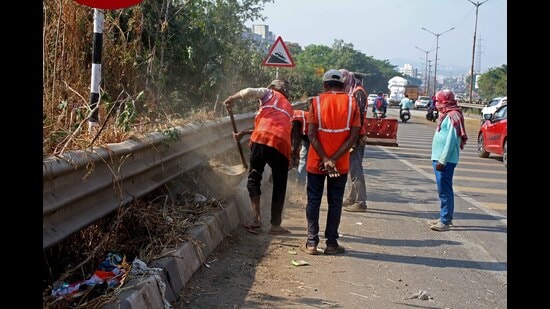 Pune district guardian minister Chandrakant Patil on Friday instructed that slope warning boards be immediately put up between New Katraj tunnel and Navale Bridge and heavy and light vehicles be separated lane-wise. Patil also instructed that all encroachments be immediately removed.
Patil on Friday held a road safety meeting and discussed the issue of Katraj tunnel to Navale Bridge following a series of accidents on this stretch. "The heavy vehicle drivers should get early warning of the slope on this road through boards put up everywhere. There should also be boards of dos and don'ts on this stretch. The administration should also segregate heavy and light vehicles and put up boards so that these vehicles only enter their respective lanes," Patil said. Recently, chief minister Eknath Shinde, too, had instructed that immediate action be taken to avoid accidents on this stretch.
Officials from the police, RTO, district administration, Pune Municipal Corporation (PMC), National Highway Authority of India (NHAI) and rural police were also present at the meeting. District collector Rajesh Deshmukh led a presentation proposing various measures to bring down the number of accidents on this stretch. The police presented the data of various accidents on this road. Patil asked the administration to take immediate action against all encroachments on this stretch.