Fadnavis attends event organised by Cong leader Kadam, triggers talk of growing proximity
Jan 23, 2023 11:11 PM IST
Deputy Chief Minister Devendra Fadnavis, for the second time within a fortnight, attended an event organised by Bharati Vidyapeeth helmed by Congress leader Vishwajeet Kadam
Deputy Chief Minister Devendra Fadnavis, for the second time within a fortnight, attended an event organised by Bharati Vidyapeeth helmed by Congress leader Vishwajeet Kadam. The incident has led to debate on growing proximity between Kadam and Fadnavis.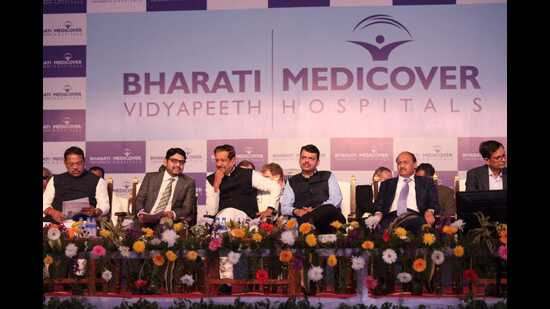 The inauguration of 310-bed Bharati Vidyapeeth Medicover Hospital in Navi Mumbai was also attended by Congress leader Prithviraj Chavan.
Fadnavis said, "I congratulate Bharati Vidyapeeth for launching a world-class facility. We can see a revolutionary change in healthcare sector in terms of research, diagnostics, and technology. There are changes happening on a large scale in this field."
Kadam, a two-time MLA from Sangli district, is a popular leader in the territory dominated by the Nationalist Congress Party and the Congress.
In the first week of January, Kadam had greeted deputy chief minister by touching his feet. Kadam's unusual gesture was noteworthy as his father-in-law, Pune-based industrialist Avinash Bhosale, is in custody of the enforcement directorate (ED). Many in political circles are joining the dots and speculating that he may join the BJP in the near future.
Speaking about some leaders growing proximity with BJP, party's state unit chief Chandrashekhar Bawankule had earlier said, "There are many Congress leaders and workers willing to join our party from booth to the Lok Sabha level."