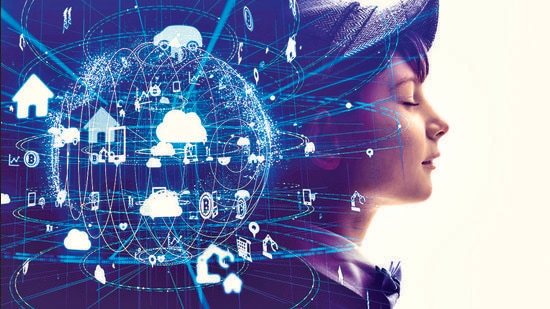 Global Village Idiot: Why education innovation is humming the tech-know beat
Our generations had values and we divided the world, because people have different values. The coming generations will unite the world because they connect by intuition. What exactly are we to teach them? And what role should schools and educators play? Know more...
By Sanjay Mukherjee
PUBLISHED ON JUN 11, 2021 04:22 PM IST
Once upon a time, around the early 2010s, there used to be these professionals in India called graphic designers (GD). Then one day, they all disappeared and suddenly, overnight, appeared a new set of professionals called user interface (UI) designers, who then evolved into upgraded, improved user experience (UX) designers.
Graphic designers rebranded themselves, since that was the role-set newer technology companies had started looking for. Slowly but surely, other ancillary tech-enabled sub-industries picked up the trend without understanding what UI and UX really meant and before anyone realised, many companies had hired for a completely new role (the GD role coexisted), with no relevant skills to go with it.
Something similar is happening in the education ecosystem which is being changed by non-education innovators (edtech and tech companies), and I am not sure if it's all going to work out in the end for the existing industry.
Traditionally when one used to hire GDs, the educational qualifications one looked for was a visual arts background, and the typical skills' repertoire included visualisation, illustration, layout, design, communication, and typography, among others. Proficiency with standard software was important, but not a replacement for the core skills.
At this point, it is essential to acknowledge that education is a governance instrument, with a clear stated objective: to (eventually) move young ones into the global labour market at a minimum acceptable level of productivity.
How does the GD quest connect to school education? Art subjects. Students who had the inclination honed their skill across school years, went to art college and later decided to go into commercial art or fine arts, and then into work. In recent decades, art and design have been added specifically to school curriculums as part of educational policy. The methods of teaching have evolved somewhat. The teaching talent base has expanded, but the big question is: does the educational approach and educator's profile map to the evolving learning requirements and student profile?
Student profiles relate to two types: generational profile and technology generation profile. So, what are the generations in school now? Generations Z and Alpha. And what is the Technology Generation that they correspond to? Digital Natives - born to deep digital reality (smartphone, always connected, social networking).
Who's teaching them? Generation Xers, early Gen Y, corresponding to the digital computer and early internet technology generations.
Who's making educational policy? Generation Baby Boomers and Gen X corresponding to analog electronic and digital computer technology generations.
Why is this important? Because it is all about computational speed from policy to end result. For the first time in human history, new knowledge is being added at a daily pace which is eroding the relevance of existing knowledge bases at the practice level.
Getting back to the GD, UI, and UX example. Today, erstwhile GD is a redundant skill repertoire in most of its previous primary bastions because software tools on the phone have evolved to the point where a school kid can easily make required choices on visual matters.
A school teacher, meanwhile, will have to read about the tool, use it, and in a week or two understand the changes on a particular tool. Most upper primary kids would look at the one tool, and get how to use it in a day if they sit with the tool.
Classic example, ICT teacher introduces Scratch as a coding platform to Grade I student. Grade I student sees your Scratch, raises the stake with Code dot org and dares you to play on with Thunkable and PictoBlox.
Essentially, the challenge for generic educators is that they have invested in processes and methodologies which are now redundant because these have been automated by technology. More importantly, a child today can access most source material that teachers use and will go through 10 different levels of such material, find their favourite online YouTubers and practice while they are munching a snack and listening to music - before the next class.
UX is a design field, related to structures and logic, functionality and experience, and problems and solutions. It's not a visual design field. Typical skillsets include research, information architecture, wireframing and prototyping, analytics and reasoning, coding, among others depending on the field of application.
Design is taught in some schools today, but not taught by designers.
A secondary school student interested in the field, can pick up professional knowledge online quite easily, quickly.
Educators are going to find it increasingly difficult because they are approaching the whole matter driven by their own convictions, based on the value-systems that they hold dear. The doctorates and degrees and studies and methodologies were meant for a human race that observed, argued, participated, thought, did, understood, mastered, implemented, et al, at the expeditious pace of centuries, decades, in extra-ordinary instances maybe years.
Generation Z and Generation Alpha are. They just arrive and become. They are intuitive at a level that is incomprehensible to an intelligence that needs to observe, study, argue, make a case, understand, do, find patterns, seek consensus, explain, et al, to even produce a first draft of anything. The Alpha generation just knows and they can connect, see patterns, think, and do in hours, minutes and seconds. Intuitive. How can a generation that is prescriptive and deductive direct generations that are collaborative and intuitive?
Our generations had values and we divided the world, because people have different values. The coming generations will unite the world because they connect by intuition. What exactly are we to teach them? And what role should schools and educators play?
Close