Maha govt asks PMC to return to four-member wards for civic polls
Published on Nov 23, 2022 11:59 PM IST
Earlier this year, the then Maha Vikas Aghadi (MVA) government had changed the composition of wards from four members each to three members each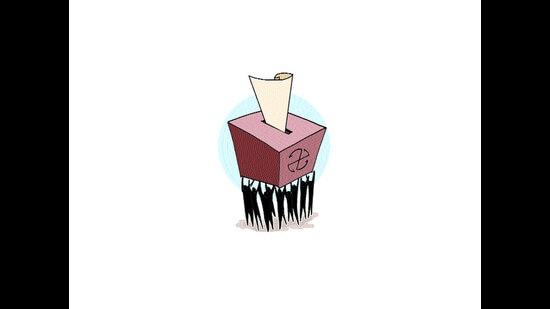 The state government has asked all municipal corporations in Maharashtra, including Pune and Pimpri-Chinchwad, to revisit the structure of wards within their limits and return to the 2017 system of four members per ward. Once this is done, Pune is likely to elect 166 members for a total 42 wards. Of these 42 wards, 40 are likely to have four members each while the remaining two are likely to have three members each, PMC officials said.
Urban Development Department (UDD) deputy secretary Priyanka Kulkarni-Chhapwale late Tuesday wrote to all municipal commissioners and asked the respective local bodies to 'start immediate process for panel restructuring'.
The UDD on Tuesday gave instructions to all the municipal commissioners to revisit the ward structure for the municipal elections. Earlier this year, the then Maha Vikas Aghadi (MVA) government had changed the composition of wards from four members each to three members each. After returning to power however, the Eknath Shinde-Devendra Fadnavis government put that decision on hold. While the Nationalist Congress party (NCP) filed a contempt of court petition in the Supreme Court (SC) challenging the current government's decision to return to four-member wards.
NCP city unit president Prashant Jagtap said, "We have already challenged the Maharashtra government's decision to delay municipal elections. Our petition is before the SC and final hearing on it is on November 28. When the matter is at last stage in court, the state government intentionally gave instructions to start the panel restructuring. This is contempt of court and we are bringing it before the honourable court."
The latest letter by the state government means that civic elections are unlikely to happen before January even as administrators in various municipal corporations including Pune and Pimpri-Chinchwad will complete one year by March 2023.
Jagtap said, "The BJP is intentionally delaying the election and not respecting democracy. If the new ward structure process is to be executed, it will take six to eight months more. Already, there are no elected members in the local bodies since March 2022. Keeping the elected members outside the urban bodies for more than a year is not good."
Congress city unit president Arvind Shinde, too, came down heavily on the BJP and said, "The BJP has lost confidence for the municipal elections. After the experiment of breaking the Shiv Sena and removing Uddhav Thackeray from power, the common man is angry with them. Taking into consideration the common man's rage, the BJP is delaying municipal elections. Else, there is no reason to delay municipal elections."
Whereas Bharatiya Janata Party (BJP) city unit president Jagdish Mulik said, "During the tenure of the Maha Vikas Agadhi (MVA) government, they carried out delimitation of the wards as per their wishes and did not follow natural boundaries. Now, we will ensure that all the guidelines are followed while deciding the ward structure. We are ready to face elections. Already in the Pune University elections, we proved that the voters are with us as our whole panel got elected."
Personalise your news feed. Follow trending topics