People pay respects at obelisk to mark Bhima Koregaon battle, Chandrakant Patil skips event
Jan 01, 2023 06:23 PM IST
Pune district administration had made elaborate arrangements including toilets, bus service and drinking water for the visitors
Lakhs of followers offered tributes at the Bhima Koregaon obelisk at Perne village on the occasion of the 205th-anniversary celebrations of the battle of Bhima Koregaon on Sunday.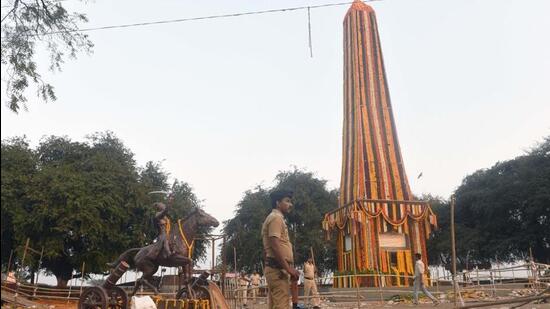 More than 5,000 policemen including state reserve police were deployed at Koregaon Bhima including nearby villages, comprising Vadhu Budruk as part of heightened security measures.
According to the state government, lakhs of people visited the victory memorial popularly known as Jaystambh.
Vanchit Bahujan Aghadi (VBA) president Prakash Ambedkar and Shiv Sena spokesperson Sushma Andhare of Uddhav Balasaheb faction visited the memorial early Sunday. However, Pune guardian minister Chandrakant Patil did not visit the memorial citing ink attack threat. Patil in a press release stated, "I am a true follower of Dr Babasaheb Ambedkar. The security of thousands of visitors is important to me and hence I decided not to visit the victory pillar on this occasion."
The Pune district administration had made elaborate arrangements including toilets, bus service and drinking water for the visitors.
The area witnessed violence on January 1, 2018, after clashes broke out between two groups following vandalisation and attacks on vehicles that had come to commemorate the 200th battle of the Bhima Koregaon. One person was killed and several persons were injured during the incident. According to the Pune police, the violence took place due to inflammatory speeches delivered at the historic Shaniwar Wada, once a seat of Peshwa power during Elgar Parishad which was held on December 31, 2017.
According to the Dalit narrative, the Dalit Mahar soldiers under the command of the British army inflicted a crushing defeat on the army of the Peshwas leading to an end to their oppressive rule.