PMC collects Rs10.55 lakh in fines from societies for neglect towards waste treatment
Jan 04, 2023 10:50 PM IST
According to PMC solid waste management department officials, most of the defaulters are housing societies which have failed to compost wet waste
The Pune Municipal Corporation (PMC) has served notices to 650 bulk waste generators (BWGs) collecting a total Rs10.55 lakh in fines, for neglect towards managing and treating wet waste at the source. According to PMC solid waste management department officials, most of the defaulters are housing societies which have failed to compost wet waste.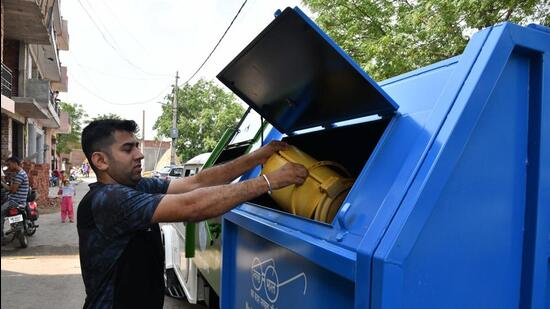 As per government guidelines, a property producing more than 100 kg of waste per day is classified as a BWG, and BWGs are required to manage waste through composting, vermin composting, biomethation and other methods at their premises. First-instance violators have to pay Rs5,000 as fine; second-instance violators Rs10,000 as fine; while a fine of Rs15,000 is levied on the BWG/property for every repeat violation. Many bigger housing societies in Pune fall in the category of BWGs and it is mandatory for them to fulfil their duties with regard to waste. Over the last few months however, they have fallen short in this area.
Asha Raut, head, solid waste management department, PMC, said, "The ward officers are conducting regular meetings with housing society members to make sure that this process is being followed regularly. At first, we carried out a survey to identify these buildings. We have then created groups for counselling sessions regarding this process, guiding them about the methods available. Technology providers are also contacted to keep them readily available for these societies. A few societies do not have the space to practise this, and the ones who are not showing any improvement are penalised regularly. Societies are coming forward and asking for help with the technology for disposal and management."
The PMC has identified a few housing societies in Kharadi, Nagar road and Shivajinagar as repeat defaulters namely, Rakshak Nagar Gold society, Marvel Serene society, Gulmohar Paradise society, Berel society and Prasoon Lotera society from the Kharadi (Nagar road) area.
Pradip Patil, manager, Gulmohar Paradise Homes, said, "We have pits to compost the wet waste but when it is kept stagnant, there are dangerous insects and risks of contamination at the site. With buildings constructed so close, we do not have enough space either. A letter was written to the corporation for providing us with a suitable space, which would not compromise the health of our residents. The reality is that we cannot compost waste in our premises as it is tantamount to risking the health of our residents."
Whereas the security personnel at the Raksha Nagar Gold society claimed that they had been served notice by the PMC despite having functional composting pits. The manager could not be reached for comment.