Riverfront development: NGT quashes review petition, asks PMC to continue with existing work
Updated on Jan 05, 2023 10:40 PM IST
The Pune Municipal Corporation (PMC) has once again got major relief from the National Green Tribunal (NGT), western zone branch, with regard to the riverfront development project as the environmental watchdog has disposed of the petition filed by environmental activists, demanding stopping of work in the Mula-Mutha river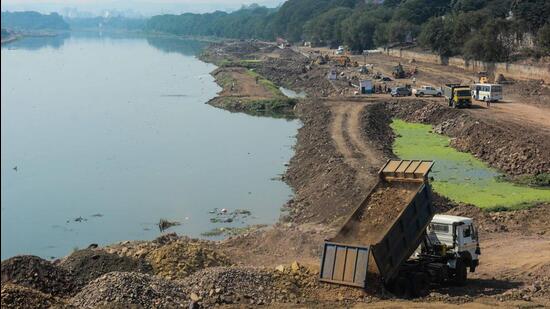 The Pune Municipal Corporation (PMC) has once again got major relief from the National Green Tribunal (NGT), western zone branch, with regard to the riverfront development project as the environmental watchdog has disposed of the petition filed by environmental activists, demanding stopping of work in the Mula-Mutha river. At the same time, the NGT has also asked the PMC to take amended environmental clearance before issuing new work orders.
The NGT bench headed by Dr Vijay Kulkarni and comprising Dinesh Kumar Singh issued the latest order on the review petition. "No new work order will be issued for raising any work till the amended environment clearance is obtained," the order stated.
The PMC is executing the riverfront development project on the Mula-Mutha river and the work between Sangamwadi-Bund garden and Bund garden-Mundhwa has already been started with plans afoot to complete a 300 metre stretch on a priority basis ahead of the upcoming G20 conference this month.
Earlier in November, the NGT had dismissed a petition filed against the project, allowing the PMC to resume work. Environmental activist Sarang Yadwadkar had then filed a review petition, seeking a stay on the ongoing work. Yadwadkar said, "We had objected to the project as the PMC did not get proper environmental clearance. But our petition got disposed on Wednesday. The NGT has given permission to the civic body for the ongoing work but at the same time, has asked the civic body not to issue new work orders till the amended environmental clearance is obtained."
PMC city engineer Prashant Waghmare, who is heading the riverfront development project, said, "The NGT had given its green signal to the project. The NGT had already accepted the PMC views last month and allowed the civic body to continue the work. Now, the NGT has disposed the petition and asked to complete the work. It will help the civic body to execute the work speedily."
Another PMC officer on condition of anonymity said that the civic body will be able to complete most of the work before the monsoon. Pune's riverfront development project is the largest in the country, covering 42 km of the river width. Prime Minister Narendra Modi had laid the foundation stone of the riverfront development project in March 2022.
However, the project has been mired in controversy. When the MVA government was in power, chief minister Uddhav Thackeray was to decide its fate. But when the MVA government lost, the reigning government, especially deputy chief minister Devendra Fadnavis instructed the PMC to resume work.