Shoddy footpaths, bumpy roads persist near metro stations, irk commuters
Published on Nov 26, 2022 11:49 PM IST
Pedestrians too are inconvenienced as many footpaths which were damaged during the work are yet to be repaired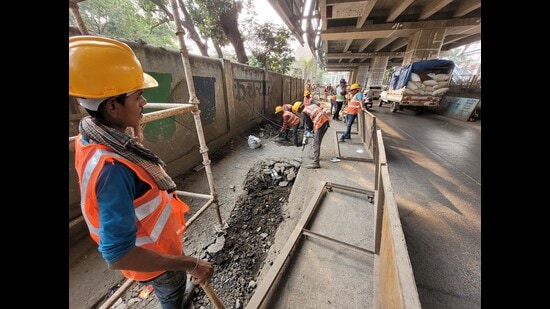 Daily commuters are facing major challenges while using roads near metro stations because of the incomplete repairs after the public transport infrastructure has come up. Commuting is a harrowing experience as commuters have to deal with traffic congestions. Pedestrians too are inconvenienced as many footpaths which were damaged during the work are yet to be repaired.
Hemant Sonawane, Maha-Metro executive director (administration and public relation) said, "The road repair work is underway at a few locations and is a continuous process. Once the work of the station is complete, the restoration of footpaths is also being done."
Maha-Metro on November 9, started large scale road repair works which includes repairing potholes, drainage, manholes and pipelines along with footpath restoration. However, on Saturday, when HT reported visited Ahmednagar road, RTO and other spots in the city, it was found that the road is still shoddy and scrap materials were laying around. The work near the metro station at Ruby Hall is incomplete.
Prabhu Swami, resident of Dhole-Patil road said, "The Maha-Metro has not even levelled the road near Ruby Hall and it becomes difficult to walk. Authorities should make a tar road at the earliest."
On Ahmednagar road, near Yerawada, traffic congestion was observed as barricades were covering major parts of roads.
"There are traffic jams at all times in the area due to barricades which cover half the road. Maha-Metro must complete work during the night when there is less traffic," said Santosh Yadav, a resident of Ahmednagar road.
Near the RTO metro station, the manhole is not covered by a barricade which can cause accidents.
"Since last 4-5 days the manhole is not covered by barricades, during evening hours commuters have to stay cautious to avoid the manhole," said Prajakta Vanjari, a daily commuter.
Near Ideal colony metro station, the scrap material is covering half the footpath. "The material has been here for days and no one is removing it. Neither Maha-Matro nor the Pune Municipal Corporation is clearing the footpath," said Rajesh Takle, a tea vendor in the area.
A senior official from Maha-Metro, requesting anonymity said, "The Maha-Metro has cleaned major roads which are connecting to stations. As work at many locations is still in progress, repairs have been delayed. Repair and maintenance of roads and footpaths is the top priority for Maha-Metro."