State health dept to hold meetings with clerics to reduce vaccine hesitancy, increase vaccination against measles
Updated on Nov 25, 2022 12:21 AM IST
Measles is a highly contagious, serious disease caused by a virus from the paramyxovirus family and it is normally passed through direct contact and through air, according to the World Health Organisation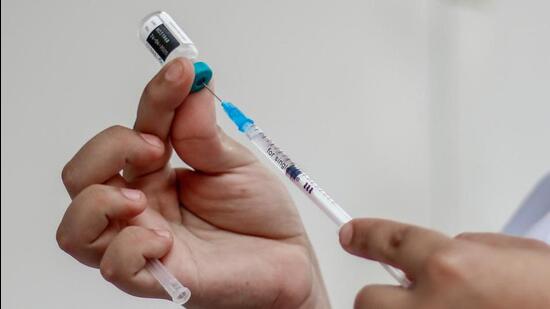 As most measles infection cases are being reported from Muslim-dominated areas such as Malegaon, Aurangabad and Bhiwandi apart from Mumbai, the state health department has decided to hold a series of meetings with Muslim clerics to dispel any misconceptions about the MMR vaccine and increase vaccination. The move is intended to address the vaccine hesitancy and low routine vaccination coverage against measles in areas such as Mumbai, Malegaon and Bhiwandi where there have been outbreaks of the disease.
Measles is a highly contagious, serious disease caused by a virus from the paramyxovirus family and it is normally passed through direct contact and through air, according to the World Health Organisation (WHO). The virus infects the respiratory tract and then spreads throughout the body.
Dr Pradeep Awate, state surveillance officer with the health department, said that the cases are limited to a few clusters only. "We are organising interactions with Muslim clerics and Unani doctors who have a deep impact on the community. We have these interactions in places with low vaccination coverage. As influential people in the community can educate and lessen the vaccine hesitancy, we are hoping that more numbers are given the doses and the spread of the disease is curtailed," said Dr Awate.
"There are no clusters of measles outbreaks in Pune district. There are secluded and individual cases but not in large numbers. Vaccine coverage is also better here. In rural parts, the spread is less likely as children are usually physically at a distance. We have seen that the spread in the present areas has been due to close proximity of children and low vaccination," said Dr Awate.
Ayush Prasad, chief executive officer (CEO), zilla parishad, said that there are only a few suspected measles cases in Pune district. "These cases of measles are suspected and are among the migrants. These are individual cases and so, there is no need to worry," said Prasad. According to the WHO, an outbreak is a cluster of at least five cases from the same area or a confirmed measles death. Dr Sachin Desai, state immunisation officer, said that the yearly vaccination so far has been good. "The overall vaccination coverage for the first and second doses is good in the state. Except for some selected areas where vaccine hesitancy is seen," said Dr Desai.
Personalise your news feed. Follow trending topics