Supriya Sule's saree catches fire at inauguration in Pune, escapes unhurt
Jan 15, 2023 11:58 PM IST
Luckily for Sule, she was immediately alerted by those present on stage prompting her to quickly douse the blaze with her hands even as others on the dais huddled to ensure that the flames did not spread further
Baramati member of parliament (MP) Supriya Sule had a narrow escape as a portion of her saree caught fire while she was lighting the lamp at a karate sports event in Hinjewadi Saturday afternoon. Luckily for Sule, she was immediately alerted by those present on stage prompting her to quickly douse the blaze with her hands even as others on the dais huddled to ensure that the flames did not spread further. The Baramati parliamentarian escaped safe and unhurt.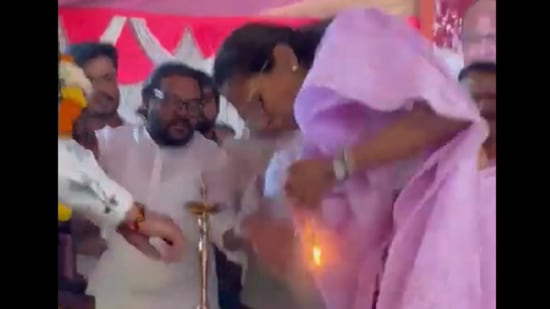 Sule said, "I was at the inauguration of the karate competition organised in the Hinjewadi area when my saree suddenly caught fire. But the fire was controlled quickly. I am safe and I urge everyone not to panic."
Thanking her well-wishers, party workers, office-bearers and citizens for showing immense love and concern during this time, she said, "I am thankful to each one for their best wishes and care. Currently, there is no threat."
A video that has gone viral shows Sule's saree catching fire onstage as she lights a candle. Eyewitnesses said that the MP had garlanded Chhatrapati Shivaji Maharaj's bust after which the accident occurred. Politicians from various parties prayed for Sule's safety. Netizen Ramsevak Dayanand Nene tweeted, "MP Supriya Sule's saree catches fire, while she was garlanding Chhatrapati Shivaji Maharaj at a function in Pune. Luckily, it was doused immediately and nothing untoward happened. God bless."
Sule did not cancel the event and completed the programme. The organisers announced that all her scheduled programmes would be completed during the day. Sule is a three-time MP from the Baramati parliamentary constituency which has been a stronghold of her father and NCP supremo, Sharad Pawar.