'Shekru' count up by 8%: Census
Jul 22, 2016 01:19 AM IST
Found mostly in forests of peninsular India, the squirrel, also called the Malabar Giant Squirrel
There has been an 8% increase in the Indian Giant Squirrel population , the state animal of Maharashtra, at the Bhimashankar Wildlife Sanctuary that is spread across Pune and Thane districts, a census found.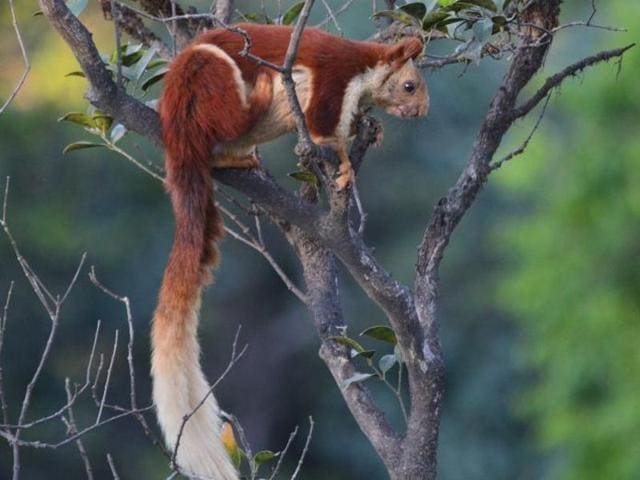 According to the annual count carried out between May and June, 2,145 Giant Squirrels were reported across 12,870 nests – 1,900 at Ambegaon, Pune district and more than 200 at Murbad, Thane — inside the 130 sq kilometre forest. Last year, 1,985 Giant Squirrels spread across 11,915 nests were counted in the area.
Found mostly in forests of peninsular India, the squirrel, also called the Malabar Giant Squirrel (ratufa indica) is about two-feet long — bigger than other squirrels — and has a long tail. They have been classified as endangered species, categorised under 'near threatened' on the International Union for Conservation of Nature (IUCN) red list.
"We are delighted that shekru (giant squirrel) numbers have increased and this points at more awareness and better conservation measures," said Sunil Limaye, chief conservator of forest, Pune. "The population estimation exercise is being carried out for the last 10 years and has allowed us to monitor and safeguard these animals."
Limaye added that the survey is carried out either on the basis of direct sighting or the number of nests built by the squirrel. "The sanctuary was divided into 100 blocks and surveyed twice a day between 6am to 10am and 4pm to 8pm by forest staff. They counted individual sightings, nests and took global-positioning-system (GPS) readings of trees," he said.
The Giant Squirrel nests are classified into four categories — in use (animals are living), under repair (where food is stored), abandoned and nursery (nest young ones). "Our department counts all nests during an annual survey. On an average, a Giant Squirrel builds about six nests, and on dividing the total nests counted by six, we get an idea about the total population," said Limaye.
As a part of the survey, the forest department stressed on the need to safeguard large fruiting trees such as ironwood, mango, jamun (Indian blackberry), hirda or coconut palm. This is because these are the trees that the animals choose for their habitat.
No state-wide Shekru count this year
As opposed to last year, when a state-wide Giant Squirrel count recorded over 3,000 animals across Bhimashankar, Thane, Sawantwadi, Ghadchiroli and Chandrapur, the forest department has decided not to carry out a state-wide survey this year.
"This year there was no call taken whether it should be done all across the state considering the major population is recorded from Bhimashankar itself. However, the state forest department is mulling over making the shekru census an annual state-wide count from next year onwards," said Sunil Limaye, chief conservator of forest, Pune.