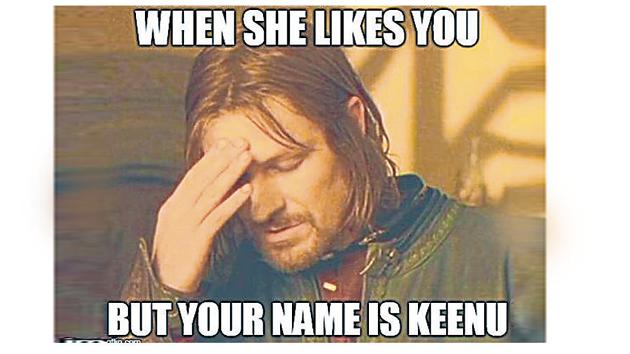 A Calmer You, by Sonal Kalra: Does your name stress you out?
If you are stuck with a name that reflects your parents' sense of humour, this is for you.
UPDATED ON SEP 01, 2018 04:45 PM IST
I have a confession to make. Recently, I read an item about a man getting arrested for groping an air hostess on a flight. And I burst out laughing. Before you think of me as this horrible person, you must know that I did not intend to make light of the incident. It's just that I found the groper's name, Ranchhod Bhai, rather amusing. More so, in the context of the news! I'm quite sure that man doesn't have an easy life today, both because of his actions — and his name. It set me thinking.
Does your name ever stress you out? I've seen many who are not happy with what their parents named them. Some hate it to the extent of changing it, and some others grudgingly live with it all their life. I tried to figure the most common stress points, when it comes to how the world addresses us.
1. Meaningless…or too meaningful: "Nice name. What does it mean?" is a favourite conversation starter for many people. But imagine being asked this question if your name doesn't mean anything at all. Like Tinny or Cheenu or something. Or, if your name means something that is almost always guaranteed to embarrass you. Like one of my Assamese friends whose surname, believe it or not, is the same word as the most commonly used sexual expletive in Hindi. The poor girl spent her entire adult life hiding her certificates and telling people she goes only with her first name.
Read| A Calmer You, by Sonal Kalra: Fake friends or friends forever?
2. What's the gender, please?: With a lot of my Gen-X friends from the Sikh community dropping the usual 'Kaur' or 'Singh' from their middle name, the Gurpreets and Harinders of the world have suddenly lost their gender identity. The dilemma is not limited to just a community. At one point, in my team, I had Saroj and Indu, both hefty gentlemen from South India, ALONG with a Vinod and a Pankaj, both women. My own name, Sonal, wasn't commonly heard of, as a girl's name before Sonal Mansigh changed that. So, as a child, I remember asking for an autograph from a very talented male actor of the hit serial Fauji, Sonal Dabral, and going red when the autograph said, "To the girl, Sonal — with love, from the guy, Sonal." Very confusing.
3. When everyone gets it wrong: It's a frustrating life when the only ones who know how to pronounce or spell your name right, are your parents. A former colleague of mine utters spellings even in his sleep, after his name, Zabeeh Afaque, has been massacred into a million wrong versions. Another colleague Neha's best friend, who has an unusual name, Makepeace, says she dreaded giving out her name as people in Delhi almost always mispronounce or misspell it. But now she finds it amusing. "Some people actually write Make 'piece'," she laughs.
4. When it's a mismatch: A 64-year-old Babloo sounds funny… and so does a two-year-old Dayal Singh. I have both in my neighbourhood. When your name is a mismatch with your profile, it's a sure shot recipe for stress. Remember the young and handsome 'Chiraunjee lal' in the film, Khosla Ka Ghosla? The guy just couldn't come to terms with his old sounding name. Then there are those who are even named Tommy, Pepsi and Apple. The parents may have found it cute but a 22-year-old Apple Gulati doesn't quite share the sentiment.
Read| A Calmer You, by Sonal Kalra: Ready for the #IAmAnIdiot Challenge?
5. When everyone else has it too: And finally, when you share your name with … just about everyone in the world. One who hasn't met a Pooja Sharma or an Amit Gupta in his life must have lived in hibernation. 'Having an extremely common name makes me feel as if I've been produced in some assembly line factory,' says one of the three Sonias I know.
So basically, your name could give you stress. But you see, it need not. Only if you'd remember that you are not stuck with it for life. If you hate it, change it. Every country, every religion allows for a name change. The procedure is not as cumbersome as it seems. And if for some reason you can't change your name, try and look for positives in it, rather than fret about it all your life. Make peace with it, just as 'Makepeace' has done.
Sonal Kalra doesn't stress about her name. Remember, Kalidas had said, "What's in a name?" What? It was Shakespeare who said that? Well, when there is nothing in the name, how does it matter? Mail at sonal.kalra@hindustantimes.com or facebook.com/sonalkalraofficial. Follow on Twitter @sonalkalra
Note: On readers' demand, this is a re-run of a previously published piece.
Close