How the BJP failed Mufti Sayeed and how it can reassure Mehbooba
The BJP's approach to Kashmir hurts the PDP in the Valley. Mehbooba Mufti needs assurance that she will be allowed to govern, writes Sushil Aaron.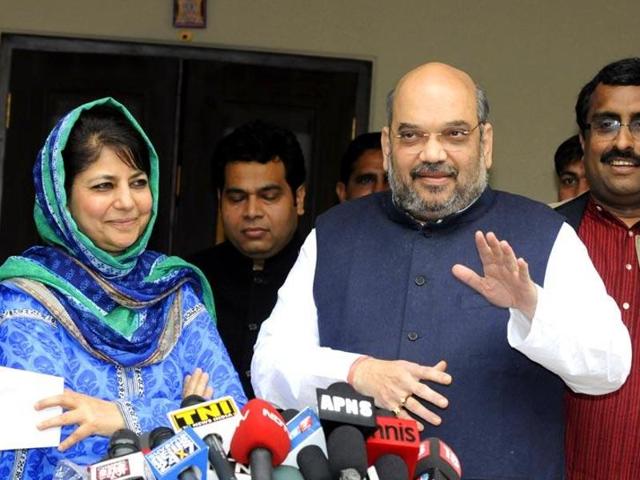 Updated on Jan 27, 2016 11:46 PM IST
Mehbooba Mufti has been handing out lessons in coalition dharma to the BJP over the last three weeks. If it was grief that held her back from immediately taking over as chief minister of Jammu and Kashmir, following the death of her father Mufti Mohammad Sayeed, it is clear now that the impasse is due to her attempts to reset the terms of her party's alliance with the BJP.
The reasons for her alienation are by now well-known. First, it was personal. Sayeed was battling illness at AIIMS in the national capital for two weeks till his passing on January 7, but few BJP bigwigs came by to visit him. That Prime Minister Narendra Modi did not do so will rankle, particularly since he tweets birthday greetings to party colleagues and effusively welcomes foreign dignitaries. For the clubby political elite in New Delhi, which gets along well socially despite ideological differences, that constitutes an unforgettable breach of protocol that lends itself only to political interpretations.
Second, Mehbooba is unlikely to forget that her father and the PDP had to virtually grovel for much of 2015 for a financial package from the Centre to help rebuild Kashmir after the devastating floods in September 2014. As news of paltry assistance became common knowledge, the anticipation of a package became the only source of legitimacy for the PDP for months on end, even as it watched the Press periodically speculate about the actual figure to be disbursed. And when the Rs 80,000-crore package was announced in November, it left much to be desired as Rs 34,000 crore was for projects already approved by the UPA and only Rs 7,854 crore was for flood relief — far less than the Rs 44,000 crore that the state government formally requested.
More than this, the BJP's overall approach seemed to be geared to undermining the PDP's support base in the Valley, which was anyway angry with Sayeed for allying with Hindu nationalists. For instance, there were calls by BJP leaders to rethink Article 370, proposals to build separate enclaves for returning Kashmiri Pandits and plans for retired soldiers to be settled in the Valley. The anti-minority rhetoric in other states took its toll as a young Kashmiri was set ablaze in Udhampur on rumours of cow slaughter. The spectacle of armed RSS activists in a procession at Jammu in October coupled with legal challenges to J&K's special status through a petition on Article 35A, stoked a sense of siege in Kashmir and inevitably put more pressure on the Muftis.
In pursuing such a path, the BJP seems to have forgotten the function that mainstream parties, like the PDP and National Conference (NC), perform — that they are vehicles for building consent and play a crucial part in pacifying Kashmir, which has been alienated from New Delhi for decades. For the parties to play that strategic role for India, they need local legitimacy, which is nurtured by economic development and ensuring a measure of critical distance from the Centre, which they maintain by calling for restoration of autonomy and persevering the state's special status.
The BJP leadership would do well to reflect on this and imagine the scenario if Mehbooba walks away from the coalition. A prolonged period of governor's rule will increase restiveness in Kashmir, which the Centre will have to tackle without the buffer of a state government. Elections will yield another stalemate with the NC expected to make gains without vanquishing the PDP in the Valley or able to form a government on its own. That Omar Abdullah is strongly opposed to the BJP leaves the latter with few options. The BJP is probably banking on the fact that Mehbooba too cannot give up on the coalition easily as she has needs power to keep the party together. But attempts to frustrate the PDP with failed commitments yet again will tempt her to walk away at a suitable juncture in the future. The absence of a viable government in J&K is also not ideal for Modi who remains keen on progress with Pakistan.
To summarise, Mehbooba as chief minister is useful for the Centre as an instrument of pacification and as an (elected) champion of India-Pakistan peace, which has its uses. But the BJP should know that Mehbooba is currently on the defensive; she is battling intense criticism from Srinagar's intelligentsia who portray mainstream party figures as political entrepreneurs who do New Delhi's bidding while being powerless to ease State pressure on ordinary Kashmiris. She needs tangible commitments to bolster her standing. Economic assistance may be easier to wrest than political concessions. Facilitating dialogue with separatists is no longer viable given the BJP's views, so other symbolic steps, like lifting the Armed Forces Special Powers Act and persuading the Army to give up land, will be crucial. Essentially, Mehbooba needs to show she can wrest a major concession from New Delhi and be assured of the space to govern before she can assume office.
She will also need to agree with New Delhi on ways to manage separatist blowback. The constant clampdown on political activity is a real embarrassment for J&K governments and is a perennial leak on their authority. Repression has never worked. Only a combination of strategies can work in Kashmir: Restoration of democratic rights, quick economic dividends, a reduced military presence, an improved India-Pakistan climate that inhibits separatist activism and a pushback against anti-minority rhetoric in India as a whole. Political stability depends on choreographing several moving parts. Mehbooba has an awkward role in all of this. The BJP must resolve that it will let her govern without undermining her, keeping the big picture in mind.
Close Story