Hindi can be our bridge to the world
Updated on Aug 27, 2018 01:29 PM IST
Indian languages could open the doors to a world of possibilities. We must open our eyes to them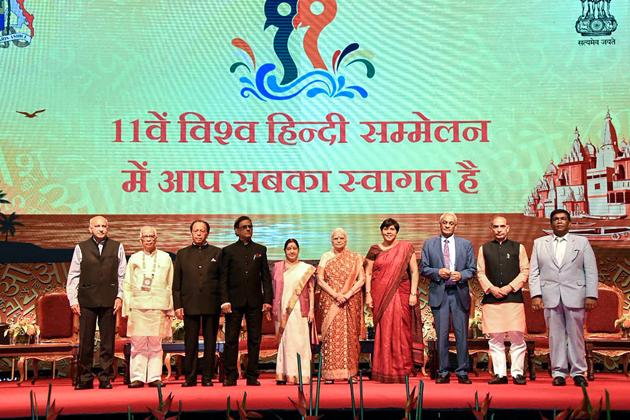 "We are the children of India and India is our mother. In this way, while carrying out a son's responsibilities, we support the efforts to make Hindi the official language of the United Nations." This announcement by Sir Anerood Jugnauth, Mauritius's minister mentor, minister of Rodrigues and minister of defence, evoked a long and rapturous applause from the audience at Port Louis's Abhimanyu Unnuth Convention Centre. Was this another announcement by a seasoned politician made just for the sake of formality?
Seen from a distance, it may appear so, since politicians the world over say such things to mislead people. But no, Mauritius is very different. Bhojpuri and Indianness have kept this island, located thousands of kilometres away, connected with India. A living example of this was the 11th World Hindi Conference co-hosted by the two countries. It was attended not just by politicians from Port Louis but representatives from various parts of Mauritius. When I compare it with the ninth edition of the World Hindi Conference in Johannesburg, I can discern a big difference. The South African government had left no stone unturned in making it a grand occasion, but there was little enthusiasm among the local people. Participants like us discovered that we were surrounded by indifference.
Mauritius was the exact opposite.
At Aapravasi Ghat, when we asked questions in English, the lady who was our guide said if we wanted, she could converse in Hindi. Aapravasi Ghat is a World Heritage site. Girmitya (indentured) workers from India landed here when they came to Mauritius. Since then, thanks to those who have settled abroad to earn a living, Hindi is spoken in 140 countries across the world and 1.2 billion people understand it. Do we still need to assert that Hindi opens the doors to a world of enormous possibilities? We simply need to open our eyes to them.
Consider Mauritius. The country has enormous strategic and economic potential. That is why Prime Minister Narendra Modi and President Ramnath Kovind, during their visits to the country, strengthened the emotional bonds between India and Mauritius by unveiling a statue at Ganga Talab and planting a sapling of the venerated peepul tree. The message they were trying to send out: India and Mauritius share a common religion and culture. The World Hindi Conference was another such endeavour. Apart from this, India is playing a big role in the development of Mauritius. We are building a metro network and have carried out a number of projects including building high quality roads. It is worth noting that the roads built by Indians in Mauritius are much better than the other roads built there.
Still, I believe long-term goals cannot be achieved just by putting together a few resources in the name of language, religion, culture and economic progress. In Mauritius and other countries with a large Indian population, why shouldn't India set up institutes that impart technical knowledge and education in medicine and engineering where the younger generation can acquire the skills to become self-reliant? We already give an Overseas Citizen of India card to Indians settled in many countries. The recipients of this certificate can do business or work in India. They can buy residential land and are eligible for a host of other rights. There are restrictions on buying agricultural land and voting, but by acquiring the requisite skills, they can empower themselves in a way that can benefit both their own country and India. Helping the representatives of Generation Next become self-reliant won't just help India and Mauritius, it will also strengthen our socio-cultural links.
There's a special reason I am saying this.
India's policymakers have always suffered from not being able to envision long-term goals. They manage to give short-term solutions, but fail to look at the bigger picture. You may want to look at China's example. Through the One Belt One Road Initiative (OBOR) and China-Pakistan Economic Corridor (CPEC), China has begun to fulfil the long-term needs of its country and citizens. Its leaders know that there's a certain darkness that lurks behind the shiny façade of economic progress. Those who dream of progress also have to think about how they'll deal with an economic downturn. Where will they relocate polluting industrial units if the need arises? With the rising population, how will they create opportunities for their young people? How can they collaborate with other countries and utilise their natural and human resources for their own benefit? China is doing all this, but India is yet to do it.
Why can't we make a beginning with countries that have an emotional connect with us? In this ashwamedha yagna (traditional ritual by kings to prove their imperial sovereignty by sending a horse into other territories) if we take along the children of Hindi and other Indian languages, there cannot be any scope for failure.
Shashi Shekhar is editor-in-chief Hindustan
letters@hindustantimes.com
Personalise your news feed. Follow trending topics