Metro Matters: Plant as many saplings but only the survivors count
Despite hectic plantation drives in Delhi every monsoon, the tree cover has remained more or less static at around 20% for the last eight years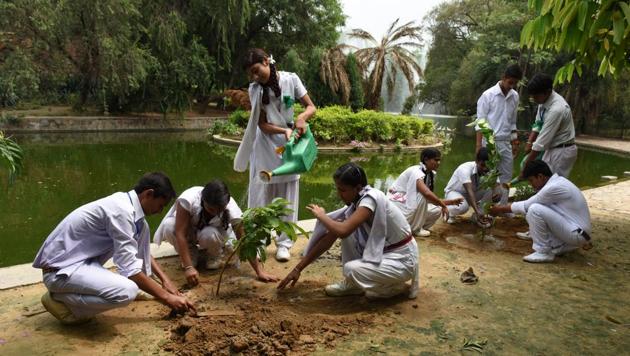 Updated on Jul 31, 2017 01:15 PM IST
"The best time to plant a tree was 20 years ago. The second best time is now." One can't say that the ancient Chinese wisdom is entirely lost on Delhi's government agencies. While chopping down thousands of trees for civil construction, the authorities here dutifully plant millions of saplings every rainy season.
However, for any tree-planting drive to be successful, the same agencies have to ensure that the saplings they plant grow up to become robust trees. But there is no one keeping the count on survival rates. Despite hectic greening activity every monsoon, the tree cover has remained more or less static at around 20% for the last eight years. That is a good 10% short of the target Delhi had set almost a decade ago.
Last week, Delhi environment minister Imran Hussain expressed concern over the ineffective monitoring of tree plantation drives by the civic agencies and told officials to submit daily progress reports. An inter-department committee has been constituted for this task.
Last monsoon, chief minister Arvind Kejriwal had pulled up the agencies for failing to enforce a third-party audit to determine mortality rates in their plantation initiatives. So far, only New Delhi Municipal Council has got one done. But officials say that at least three years' data is required to get a sense of what the greening drives in Delhi have achieved so far.
In any greening project, planting a sapling is always the easy part. Ensuring that it grows up to become a tree is the real challenge. Not all seedlings can take root and a 100% survival rate is not attainable. But high sapling mortality turns plantation drives into dud initiatives. A waste of resources and effort, this also undercuts the long-term advantages that a growing green cover can provide to a city.
Studying street trees in the American cities of Detroit, Indianapolis and Philadelphia, researchers at the universities of Indiana and DePaul found that high survival rates during year 1-3 are critical to maximising benefits and at least a 96% annual survival rate was necessary to ensure that the trees provide maximum benefits over their lifetime. (Forests, Multidisciplinary Digital Publishing Institute)
For their study, published in 2016, the researchers used i-Tree, a software created by the USDA Forest Service, which gives detailed inventories on the urban canopy and calculates their monetary value. In an analysis of Austin, for instance, the software creators estimated that trees saved this Texan city $18.9 million annually in reduced building energy use, $4.9 million in reduced carbon emissions, $2.8 million per year in reduction of air pollution, and $11.6 million per year through carbon sequestration.
Delhi, of course, has no such data base. But the value of the green cover for the city cannot be emphasised more at a time when the national capital is choking with ten million vehicles, its groundwater has been sucked dry and, even as civic agencies spend R 500 crore annually on flood control measures, each downpour turns the streets into streams.
Delhi remains one of the world's greenest capitals. But sadly, it has no comprehensive tree management plan. The Delhi Forest Act, notified in 1994, mandated a tree count. Twenty-three years later, the agencies are still counting.
Anyway, the mere numbering of trees does not tell us anything about their health. But what we do know from various court petitions and independent audits by environment groups is that many roadside trees are sealed with cement or have been impaled, lopped and hammered to put metal boards. In many locations, traffic, overflowing wastewater and construction rubble have stunted the tree growth.
While Delhi has a large population of decaying and ageing trees, we don't have the numbers. We end up with random plantation targets, which keep getting higher every year, without any focus or investment in an effective aftercare programme. Instead, we need to look after the standing trees, keep our plantation targets realistic, pick the species that suits the local conditions, and strive to achieve a minimal survival rate.
Depending on the species, seeing a sapling through requires four to five years of maintenance. It needs regular watering, weeding and monitoring to prevent damage or decay. It needs protection from animals, pests and vandals. Most importantly, it needs human neighbours allowing it to take root.
The authorities can do very little if residents consider saplings an encroachment on their parking space and suspect every standing tree of plotting to come down on their cars.
shivani.singh@hindustantimes.com
Close Story
Personalise your news feed. Follow trending topics