Terrorist attacks make the humdrum rhythm of the city feel like an act of resistance
Cities like New York and London and Mumbai are inevitable targets for extremists. They defy zealots and purists. They are diverse, complicated, and contradictory.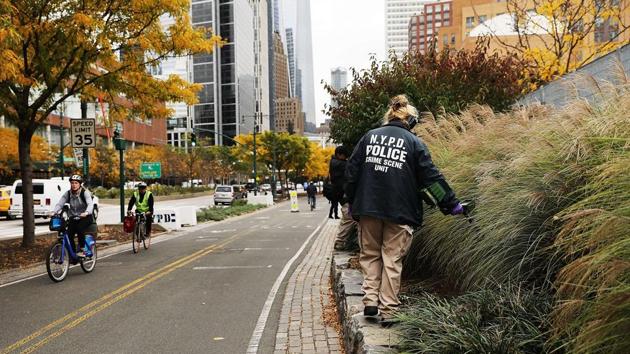 Updated on Nov 10, 2017 06:50 PM IST
I grew up in Manhattan and lived in the heart of New York City through my 20s. I would go regularly for long runs through the island to the Hudson River. What was once a quasi-industrial line of warehouses and docks has been spruced up recently into a congenial waterfront park. With the lazy river on one side, I'd jog south past the stumps of old wooden piers towards the skyscrapers of New York's financial district. I'd take a break by the water and watch ferries cross back and forth to New Jersey as I caught my breath.
It was along this same path that a man drove his rented truck mercilessly over cyclists on 31 October. The Uzbek driver, who was a legal resident of the United States, copied similar ISIS-aligned attacks on civilians. This was the most significant Islamist terrorist incident in New York since 2001.
Typically in a city as embedded in the world as it is part of the United States, the victims in New York came mostly from other countries. Of the eight people killed, two were American, one was Belgian, and five were from Argentina. (Outside of New York, no place has been as affected by this attack as the Argentinian city of Rosario, the hometown of all five slain Argentines. It is observing several days of mourning.)
There is no sense to be made out of their killings. One grief-stricken person described his friend's death to the Argentine press as "a death without meaning."
That absence of meaning is central to most terrorist attacks. The arbitrariness of the atrocity implicates everyone, giving rise to that common refrain after every terrorist incident, "It could have been me." I was miles away in Brooklyn when the attack happened, but I found myself immediately feeling it personally, remembering my thousands of footsteps on that same asphalt, seeing through my own eyes – not through the lenses of photographers or CCTV cameras – the corner of West and Chambers Streets where the attacker careened to a stop.
And yet it wasn't me. I wasn't there. Though wounded, my city remains basically the same place today as it was before. The attack was brutal, but it was stopped fairly swiftly. City authorities didn't cancel the annual Halloween parade scheduled just a few hours later. On local TV, journalists got sound-bites about perseverance and resilience from people dressed up as chickens, super-heroes, emoji icons, and even from a man wearing an ensemble costume of Vladimir Putin riding Donald Trump. All these creatures spoke in unison: the terrorists won't stop us from living our lives.
The ordinariness of our lives and their urban rhythms seem somehow ennobled by a terrorist attack. Righteous hashtags proliferate on social media. Boring intersections and bland plazas suddenly become charged with greater significance. We are made to feel that there is heroism in just carrying on.
This is all part of the increasingly familiar, globalised script of responses to terrorist attacks. It's how you make sense of the nonsensical, how you salvage virtue from the malice of this violence.
But as forced as that tendency does feel to me, it is far superior to its obverse.
As soon as the attack happened, the American president rushed to Twitter to inveigh against Muslims and to push his anti-immigrant agenda. Trump grotesquely forces meaning upon the meaningless violence of terrorists. He latches on to every excuse to advocate his thinly-veiled racist desire to reduce immigration (including Indian immigration) to the United States. He pledged to "step up" America's "extreme vetting program" in the wake of the attack. Never mind that nothing in the attacker's background could have predicted his actions. Never mind that he was raised in what was apparently a secular, middle class family in Tashkent and only became radicalised years after immigrating to the United States.
Cities like New York and London and Mumbai are inevitable targets for extremists. They defy zealots and purists. They are diverse, complicated, and contradictory. Whenever I would sit by the Hudson and watch the boats on the river, I would think of the centuries of people from all over the world who came in and out of New York to make this city their own.
By its ethos, New York is fundamentally opposed to the puritanism of the jihadi. But New York also cannot countenance the bigotry of those like Trump who would see the city turn in on itself. As impossible as it is to rescue meaning from the barbarism of terrorism, it is even more essential to resist attempts to impose meaning from the outside, to resist enlarging the crime by lending it an existential horror that it desires but does not deserve.
Kanishk Tharoor is the author of Swimmer Among the Stars: Stories.
The views expressed are personal
Close Story