Opinion: Back head coach, allow him freedom to build the side
Hindustan Times, New Delhi |
Rex Clementine
Sep 26, 2018 03:00 PM IST
The Sri Lankan board has ignored advice by stalwarts and allowed too many first-class teams, which has diluted the standard of the game
Sri Lanka had a disappointing 2017 in cricket but 2018 dawned with fresh hope following the arrival of new coach Chandika Hathurusingha. A man with a proven track record, Hathurusingha was expected to iron out deficiencies and bring back the glory days. Under Hathurusingha, the team has done well in Tests with series wins overs South Africa and Bangladesh and drawing a series in West Indies. But in shorter formats, the team has continued to struggle, and following their humiliating defeats at the hands of Bangladesh and Afghanistan, the team made an early exit in the Asia Cup.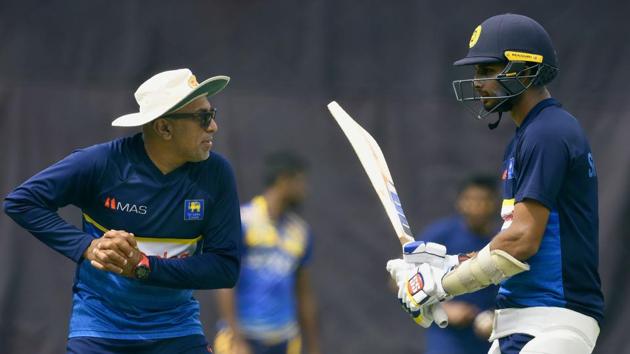 The world's highest wicket-taker Muttiah Muralitharan, who was Hathurusingha's team-mate at Tamil Union, had warned not to expect miracles from Hathurusingha; "he is not carrying a magic wand," Murali had said.
So, the onus is on the Sri Lankan authorities to back Hathurusingha and allow him to run the show the way he wants. Sri Lanka have only themselves to blame as years of mismanagement and ill-advised policies have seen them to the current predicament.
Pleasing member clubs
One of the drawbacks was in 2016, with Sri Lanka Cricket increasing the number of teams that play first-class cricket from 10 to 24. At a time when critics felt that 10 first-class teams in the domestic structure was too much, expanding it to 24 was a killer blow as it further diluted the level of competition in domestic cricket.
The move was done to please the member clubs who vote at the cricket elections. In 2016, former greats Kumar Sangakkara, Mahela Jayawardene and Aravinda de Silva were requested by the Ministry of Sports to submit a structure for domestic cricket. The trio suggested that Inter-Provincial cricket, comprising five teams, become the highest form of domestic cricket above the Inter-Club tournament.
ALSO READ: Identify players for World Cup, support them, says Kumar Sangakkara
The clubs that control SLC didn't like the idea and the proposal was discarded. During India's tour to Sri Lanka last year, Test opener Dimuth Karunaratne and fast bowling coach Chaminda Vaas criticised the bloated first-class competition comprising 24 teams as it wasn't competitive enough. Sri Lanka's first-class cricketers get paid a pittance compared to what the few players who have made it to the Sri Lankan side are paid. Due to a lack of financial security in domestic cricket, most fringe players tend to shuttle between Australia and England to play grade and league cricket.
This has further diluted the level of competition in Sri Lankan domestic cricket. There have been calls to increase match fees and provide contracts to first-class cricketers, but that has not been done. Part of the problem is that there are about 350 first-class cricketers after the number of teams was increased. A limited number of first-class teams, as Sanga, Mahela and Aravinada wanted, would have catered to about 100 first-class cricketers.
Trust missing
After being let down on numerous occasions, there's little trust among former players that authorities are genuinely interested in fixing cricket woes . Former players in the past have been asked to be part of various committees, but their suggestions have been discarded. A few months back when the current Sports Minister Faizer Mustapaha welcomed De Silva, Sangakkara, Jayawardene and Roshan Mahanama to give suggestions, they turned down the request.
SLC has also failed to invest in infrastructure. The board had a blueprint and wanted to put in place a high-performance training centre. Bangladesh Cricket Board borrowed Sri Lanka's idea and has come up with high-quality training centres. Sri Lanka instead invested their money on futile projects. Constructing an international ground at Hambantota at the electorate of former President Mahinda Rajapaksa cost SLC an arm and a leg. SLC's debts increased to millions of dollars. The money spent on vanity projects would have been better utilised in improving infrastructure.
Failed T20 league
Bangladesh have made quite an impact in the sport in recent times and the Bangladesh Premier League has helped their players develop. Sri Lanka have tried several times to start a T20 league, but the effort has failed.
Tampering with the coaching department also has affected Sri Lankan cricket. Jerome Jayaratne, a qualified coach had headed the unit for over 15 years and there was a system in place. But two years ago, he was replaced by Englishman Simon Willis. He wasn't successful in the role and stepped down in June. SLC replaced him with former Test cricketer Asanka Gurusinha, who is not a career coach. Jayaratne is still employed by SLC as Chief Operating Officer and sending him back to head the coaching department could help fix some problems.
The future looks bleak for Sri Lanka unless they take some tough decisions. Not a single Sri Lankan player features among the top-10 in rankings for batsmen or bowlers in both ODI and T20 cricket. That is alarming.
They have little hope in the 2019 World Cup given their horrendous performances in recent times. The realistic target should be to try and finish among the top four teams in cricket's showpiece event.
With cricket boards all around the world investing on franchise-based cricket, the nature of white-ball cricket has changed drastically, but Sri Lanka have failed to step up to the mark. The team badly lacks power hitters who could make maximum use of powerplays. Teams these days are regularly touching the 350 mark while Sri Lanka are struggling to post totals in the region of 250.
Their bowlers tend to look to contain the batsmen in limited-overs cricket whereas the order of the day is to pick up wickets. Teams like India, South Africa, Pakistan and England, some of the more successful teams in ODI cricket in recent times, have relied on wrist spinners, but Sri Lanka have refused to go on that path.
Right-arm leg-spinner Jeffrey Vandersay and Chinaman bowler Lakshan Sandakan have been around for sometime but they have been given little exposure. Vandersay last featured in an ODI in October 2017 while Sandakan has played only 13 ODIs in two years.
In Test cricket, of course, the Sri Lankans are still a strong force. No team had beaten Pakistan in UAE since the gulf region had become their adopted home in 2010. Sri Lanka put an end to that with a sensational 2-0 series win. More recently, they overcame South Africa 2-0. Captain Dinesh Chandimal is ranked eighth and opener Dimuth Karunaratne is ranked seventh in ICC Test rankings. Left-arm spinner Rangana Herath is at seven in the rankings for Test bowlers.
However, Herath is not going to be around for a long time. The upcoming three-match series at home is going to be his swansong. Off-spinner Dilruwan Perera is their second-choice spinner and he is 36. The likes of off-spinner Akila Dananjaya and fast bowler Kasun Rajitha are expected to make an impact in the longer run. The next six months are going to be tough for the Sri Lankan side. After the England series, they will be taking on New Zealand, Australia and South Africa away from home in back-to-back series and these challenges will test them.
(Writer is a senior Sri Lankan cricket journalist and his views are personal)