Australian cricket team repeat offenders? How SA planned to catch Steve Smith's team red-handed
Updated on Mar 26, 2018 10:15 PM IST
The manner in which ball-tampering was done by Australian cricket team member Cameron Bancroft makes one question whether or not this was a 'one-off' incident as mentioned by Steve Smith.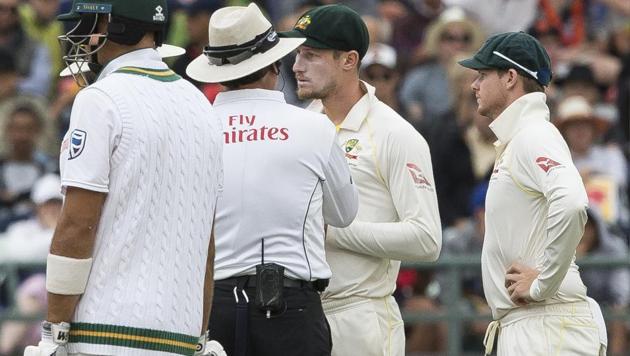 Steve Smith's blatant admission to ball tampering has thrown up fresh suspicions that it may have been done by the team in the past as well.
The broadcasters, who caught opener Cameron Bancroft using a yellow piece of paper to roughen the surface, claim that they were tipped off about the incident after South African batsmen complained to the umpires that David Warner was using the tape in his hand to deliberately change the condition of the ball.
SuperSport Network apparently made it a mission since then to dig out the truth and followed the ball extremely closely since it was being released by the bowler and made it back to him, said a report in The Courier Mail.
Former South African cricket team fast bowler Fanie de Villiers told RSN radio that he felt things were not right after finding that Australian bowlers were able to reverse swing the ball even before the 30th over. "I said earlier on, that if they could get reverse swing in the 26th, 27th, 28th over then they're doing something different from what everyone else does,'' de Villiers said.
"We actually said to our cameramen … go out have a look boys. They're using something. They searched for an hour and a half until they saw something and then they started following Bancroft and they actually caught him out at the end," he added.
"It's impossible for the ball to get altered like that on cricket wickets where we knew there was grass on, not a Pakistani wicket where there's cracks every centimetre. We're talking about grass covered wicket where you have to do something else to alter the shape, the roughness of the ball on the one side. You have to get the one side wetter, heavier than the other side."
"Australian teams getting reverse swing before the 30th over, they had to do something. If you use cricket ball and scratch it against a normal iron or steel gate or anything, anything steel on it, it reverse swings immediately. That's the kind of extra alteration you need to do.''
Although it's yet to be proven otherwise, but the manner in which the execution was carried out threw open a larger question: is this the first time? Former Pakistani fast bowler Waqar Younis certainly wasn't convinced. Taking to Twitter, Younis wrote on his official handle: "Don't tell me this is happening for the first time,,,,is it ?????? We might have to dig out some old footage".
Even England fast bowler Stuart Broad seemed perplexed. Taking a sly dig at their arch-rivals, Broad questioned the need to carry out such a disgraceful act, given that Australians produced reverse swing in conditions that didn't suit that variation during the recently-concluded Ashes series. "I saw Steve Smith say it was the first time they have tried it (using impregnated tape to tamper with the ball),'' Broad said.
Australia had blanked England in the five-match series at home, beating them 4-0. "To me, it's surprising — why they would change a method that's been working? If you look at the Ashes series we've just played, they reverse swung the ball in nearly all of those Test matches sometimes in conditions where you wouldn't expect the ball to reverse," The Telegraph quoted Broad as saying. "I don't understand why they have changed their method for this one game.
Personalise your news feed. Follow trending topics