Batshuayi strike wins it for Belgium as Canada go down fighting
Updated on Nov 24, 2022 03:38 AM IST
Canada outclassed and outplayed the higher-ranked Belgium but a goal from Michy Batshuayi and Thibaut Courtois's penalty save off Alphonso Davies gave the Red Devils victory.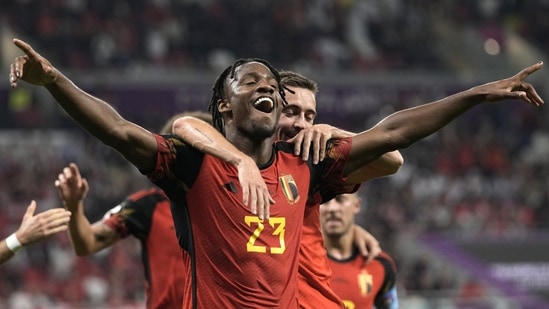 Both the wait and the weight of expectations got to Alphonso Davies. He was 14 years from being born when Canada last played at this level in 1986. To be asked to take a penalty kick 10 minutes into their campaign that could have fetched Canada their first World Cup goal against a team ranked No. 2 in the world and full of players they call a golden generation all got a bit too much for Davies. That and the time Belgium took before Thibaut Courtois took to get ready.
Like his former club mate Robert Lewandowski, Davies' effort was poor which Courtois went down on his right to save in what was a 1-0 win for Belgium courtesy a Michy Batshuayi strike in the 44th minute. The penalty rebound too fell Davies' way but at a difficult height and the left-side attacking player shanked his shot. Belgium breathed again getting away with a booking for Yannick Carrasco for handball after Tajon Buchannan's shot hit his hand.
Opportunity lost but not their vim. At the Ahmad Bin Ali stadium, forget stage fright, Canada were enjoying the stage. Courtois was called into action soon after the penalty to save Alistair Johnson's shot and Jonathan David's when a pass to the better-placed Richie Laryea looked the better option. Then there was another VAR check in the 38th minute when Axel Witsel and Laryea got into a tangle.
Twice Kevin de Bruyne motored down the middle like only he is capable of but on the first occasion the pass was too long for Yannick Carrasco and then Eden Hazard couldn't build on the opportunity created by the man whose day job is making magic on the football pitch. Canada had succeeded in keeping some of the planet's most famous footballers not just quiet but had 12 attempts to Belgium's two. Equally important though was Belgium having two shots on target to Canada's one.
One of those two fetched the goal and it was not a work of sophistication expected off title contenders but a ball played hoofed from the back that nearly travelled the distance of the pitch. What Batshuayi then did showed why there are great expectations on Belgium. Hemmed between two defenders, Batshuayi drove forward, controlled the ball and scored with a powerful shot from close. It was his 27th international goal. Only Eden Hazard and Romelu Lukaku have more.
Even then Canada could have gone into half-time on level terms. But Buchanan ballooned from close after Laryea found him. Then Stephen Eustaquio had a shot cannoning into a defender and Belgium whose centre-back trio went into the game with a combined 295 internationals managed to keep them at bay at the halfway stage.
Canada continued to press in a pack but like in the first half, their finish lacked finesse; Cyle Larin's header off Johnston's cross from the right being a case in point. Or Larin's header in the 85th minute. But they can't be faulted for not trying. They had three times more shots than Belgium but the winners had three on target, one more than Canada.
So unlike Saudi Arabia and Japan, an upset didn't happen but Canada gave enough indications of how much they have moved from when they debuted in the World Cup. They now have players in Europe, teams in Major League Soccer and their own league. A multi-cultural society, Davies' parents fled Liberia during a civil war and he was born in Ghana before they migrated to Canada, has led to an uptick in following football. It showed on Thursday when Canada enjoyed raucous backing from the fans who stomping on the terraces and roared to make their presence felt.
Topics
Personalise your news feed. Follow trending topics